Volunteer
Current Volunteer Opportunities
Volunteers contribute thousands of hours to Golden Spike National Historical Park each year. Retired couples, individuals, school groups, scouts, clubs and organizations - people just like you - donate their time and efforts to provide essential services at Golden Spike's visitor center. Volunteers may donate several months at a time or perhaps a few hours. Current opportunities include: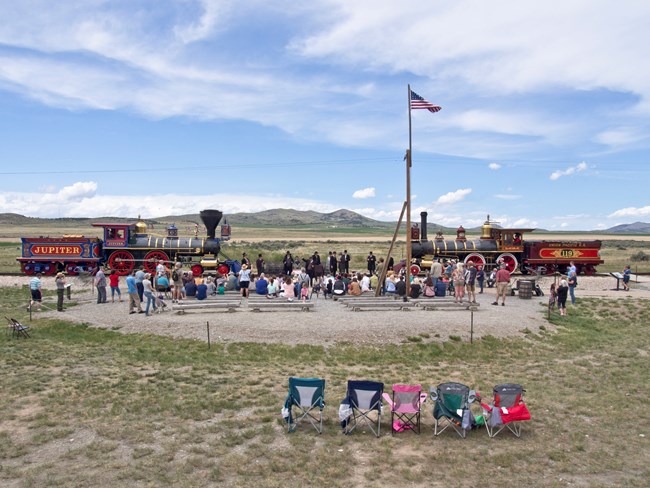 Volunteers at Golden Spike
Golden Spike provides several unique opportunities in the National Park Service for volunteers. Below are some of the positions that can be found on volunteer.gov.

Re-enactment Cast Members: Play a role in one of our nation's proudest moments on Saturdays and holidays in the summer. Costumes provided by park.

Locomotive Operations: Our locomotives require extensive maintenance year round to ensure safe operation. Painting, cleaning, brass polishing, and machining are essential skills for engine house volunteers. During the summer months the park also needs volunteers to act as safety observers to keep visitors a safe distance from the track during demonstration runs.

Visitor Center Operations: If you enjoy talking about the transcontinental railroad and helping visitors plan their activities in the area the park could use your expertise.

Maintenance: Trail cleanup, road maintenance, trash removal, and basic landscaping are always in need at the park. A great opportunity for larger groups (e.g. Scout Groups) to help improve the park.

Western National Parks Association Sales and Information: The bookstore at the visitor center is operated by Western National Parks Association (WNPA). Volunteer clerks assist with the stocking, merchandising, and sale of educational and intrepretive products. If interested in this opportunity please call 435-471-2209 Ext 422.

During the summer months including late spring and early fall, Golden Spike NHP has limited opportunities for volunteers to stay on site. We have dedicated trailer pads with hook-ups in the headquarters area. Volunteers that complete 250 hours are eligible for the Amercia The Beautiful Volunteer Pass.
To apply to be a volunteer,
please fill out an application (
Volunteer Application
) and mail or email to the contact information below or apply through volunteer.gov:
Volunteer Coordinator
Golden Spike
National Historical Park
P.O. Box 897
Brigham City, UT
84302
cole_chisam@nps.gov
435-471-2209 x437
Last updated: February 19, 2022