Seaplanes and Mussels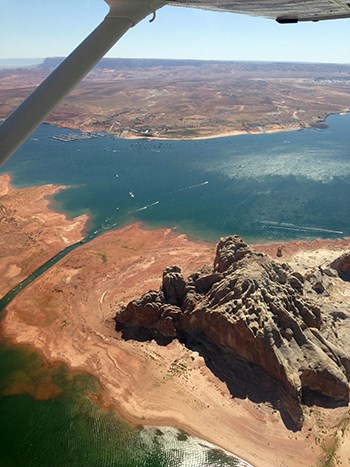 Follow these guidelines from ProtectYourWaters.net to prevent the spread of invasive species with seaplanes. As with a boat, you must Clean. Drain. Dry.
Clean.
CLEAN off visible aquatic plants, animals, and mud from pontoons, cross members, steps, transom, rudders, chine, wheel wells, mooring ropes, wires, and cables. Scrub off any floats with a stiff brush. Rinse landing gear with high-pressure hot water, when possible. Landing in marine waters, if moving between freshwater bodies, can be an effective method of killing freshwater aquatic invasive species.
At water take-off:
Avoid taxiing through aquatic plants.
Raise and lower water rudders several times to clear off plants.
After water take-off:
Raise and lower water rudders several times to dislodge aquatic plant fragments while flying over the waters you left or over land.
If aquatic plants remain visible on aircraft, return to same water body and clean them off.
Drain.
DRAIN water from floats before take-off.
Dry.
DRY everything five days or more, unless otherwise required by local or state laws, when moving between waters to kill small species not easily seen OR wipe with a towel before reuse. Store aircraft on land when possible. Hot summer temperatures and flights during dry weather will help kill aquatic invasive plants and animals that may be on floats.

Seaplane pilots should follow the detailed guidelines from the Seaplane Pilots Association to avoid spreading any aquatic invasive species.
Last updated: March 3, 2023