Mussel Decontamination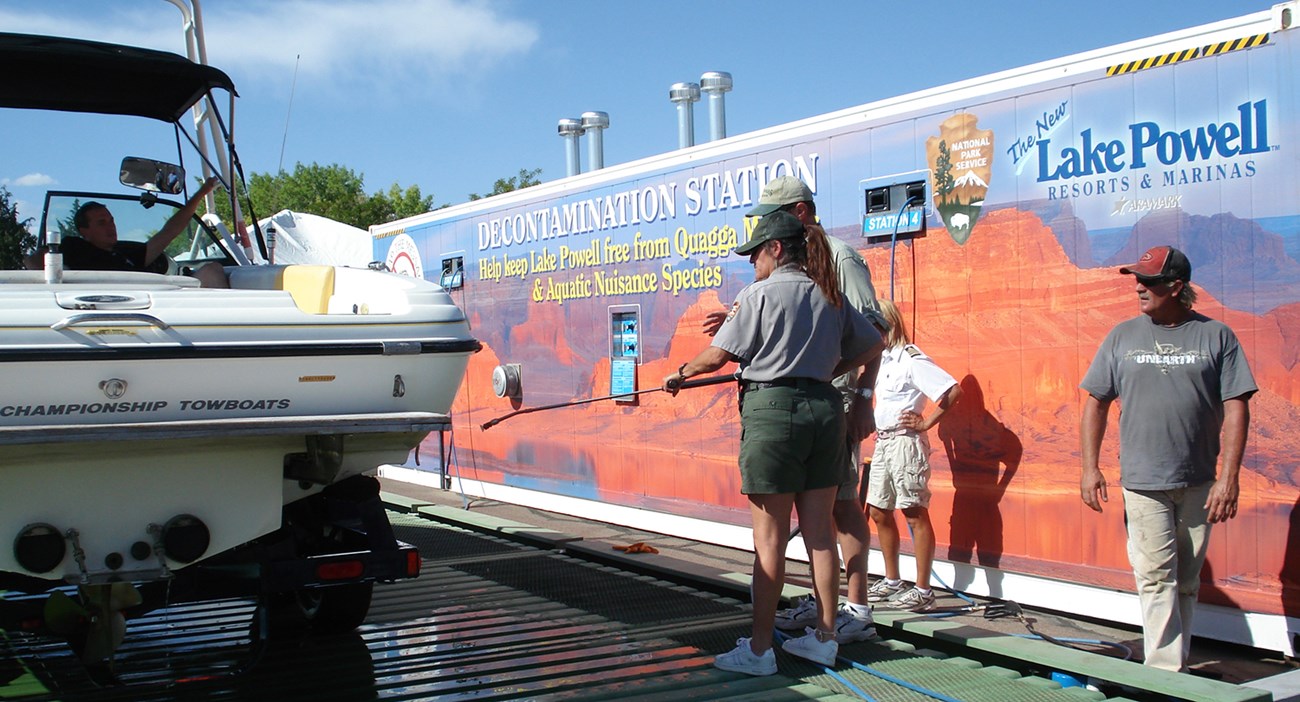 Watercraft and equipment must be decontaminated after use on quagga infested waters like Lake Powell. If decontamination through extended drying times cannot be met, professional treatments are necessary.
Decon Treatment
The process of decontamination consists of flushing 140°F water through engine outdrives and other components to remove and kill the mussels. Only trained and certified decontaminators are allowed to perform this professional decontamination service.
The National Park Service works with Utah DWR and Arizona Game & Fish to provide Decontamination Stations at Lake Powell offering courtesy decontamination on the spot (for boats without attached quagga mussels). Stations are located at Wahweap, Bullfrog, Halls Crossing.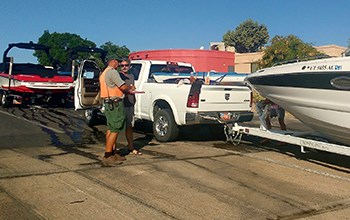 Exiting Lake Powell
Not every boat requires the hot water decon service, but all boats must be inspected.
Inspection
All boaters must see the AIS technician at the launch ramp for inspection. Start the clean, drain, dry process asap to expedite the inspection. Remove all mud, plants, and animals from watercraft, trailer, anchor, and equipment. Pull all plugs and leave them out during transport. Drain water from watercraft and equipment (live wells, ballasts, and engines) before leaving the ramp.
The AIS technician will inspect the boat and help you determine the next step, which may include decontamination at the on-site station. Boats with attached mussels will be directed to private decontaminators.
During the busy summer season, expect to wait in line for inspection. Please be patient. Our technicians are there to help stop the spread of AIS to other bodies of water. We are all in this together.
State Laws
It is crucial to keep the mussels from moving from Lake Powell to other lakes and rivers. State laws require you to clean, drain, and dry your boat when leaving Lake Powell using self-decontamination procedures. Additional steps are required if you launch on other waters without a significant drying period.
Regulations vary depending on the state, so all boaters should review the regulations of any state they will enter with their watercraft after being at Lake Powell.
No matter where you are headed next, it is illegal to transport aquatic invasive species.
Professional Decontamination
Private businesses offer decontamination services in Page, AZ and near Bullfrog, Utah. The following businesses have been certified through Watercraft Inspection and Decontamination Training set forth by the Pacific States Marine Fisheries Commission and US Fish and Wildlife Service through the 100th Meridian Initiative. They can provide vessel decontamination services for a fee. These are independent business and are not associated with the National Park Service.

Offshore Marina
Hwy 276 Mile Marker 30
Lake Powell, UT 84533
844-662-2628 ext 506
Prevent Delays and Reduce Costs Associated with Transporting, Buying, and Selling Boats

In an effort to prevent the spread of aquatic invasive species, the Pacific States Marine Fisheries Commission, U.S. Fish and Wildlife Service, Western Regional Panel, and others are making information on state laws and best management practices available to boat haulers, auctioneers, marinas, manufacturers, and brokers to make it easy to comply with state, provincial and federal laws, prevent costly delays in transporting or selling boats, and help reduce the spread of aquatic invasive species.
Communication Prevents Delays
The western state and provincial AIS coordinators know the laws and regulations for their jurisdictions, and they're available to assist you by informing you of their laws and providing you with any other tools and information you need to successfully transport a boat, or sell/auction a boat, particularly those coming from water bodies infested with aquatic invasive species. Contact any western state or provincial AIS coordinator via the website.
Boat Haulers – Call Before You Haul
Here's what you can do to comply with state laws and help prevent the spread:
After you Clean Drain Dry - ALWAYS CONTACT the destination state or province to understand the laws and regulations that jurisdiction has for boats coming from other states. To minimize travel delays and ensure compliance with laws, an inspection of your watercraft will be scheduled in your destination state. An online map of regional watercraft inspection stations, and contact information for AIS coordinators in the western states and Canadian provinces is available at https://www.westernais.org/watercraft.
Last updated: March 3, 2023