Graffiti Removal and Intervention Team (GRIT)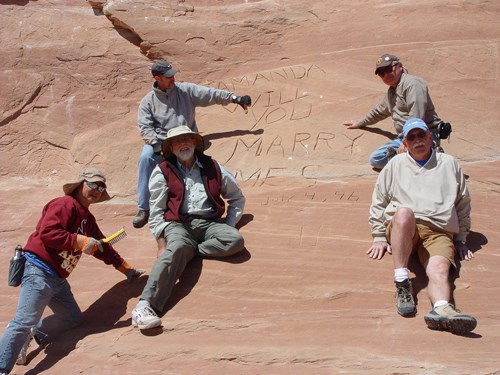 Graffiti…
is a widespread problem in Glen Canyon.
destroys natural, cultural, and historic resources.
is carving into rocks.
is painting on walls.
is ugly.
is illegal.
Trips on True GRIT
In 2003 Bob and Vicki Schwartz, and Bill and Carol Williams, donated a 55-foot Skipperliner houseboat to Glen Canyon National Recreation Area to support graffiti removal. The True GRIT made her maiden voyage in 2004 and still serves today as a floating operations base for volunteers attacking the widespread graffiti problem at Lake Powell.
Volunteers on True GRIT houseboat trips enjoy five days and four nights living aboard the True GRIT tackling graffiti and enjoying the spectacular scenery of Lake Powell. The boat is free, fuel is free, and an experienced member of the Glen Canyon team pilots the boat and takes care of its operation. All volunteers need to do is provide their own food and comfort items and help clean up the lake! Look over the Equipment List for what is provided and what to bring.

Participants in the program are members of the NPS Volunteer-In-Parks (VIP) Program and spend 5 days aboard a houseboat. Volunteers for the GRIT program manually remove graffiti along the shoreline, in side canyon, and along trails in addition to helping to locate and document new occurrences of graffiti vandalism and throughout Glen Canyon. The True GRIT's destination changes on each trip. Applications for this season will not be accepted until February 1, 2020.
Why the Graffiti Removal & Intervention Team (GRIT) exists, and how you can volunteer for the program.

Duration:

6 minutes, 1 second
Volunteer Requirements
Graffiti is removed using water, tools, brushes, and a WHOLE lot of elbow grease. Please keep in mind that it is essential for GRIT volunteers to be in good physical condition and health, since duties involve walking over rough or slick terrain, lifting, and being out in the sun for prolonged periods of time.

Volunteers must be able to work outdoors for at least six hours a day. Volunteers must be able to use small tools (scrub and wire brushes, scraper, hammer, chisels, and shovels) and perform moderate to intensive labor time in an outdoor environment, for a five consecutive days. Work requires kneeling on hard rock surfaces, bending and stooping, walking over uneven terrain, with the possibility of hiking anywhere from 1- 5+ miles each day. The National Park Service trip leader will coordinate leisure time according to work schedule.

Volunteers must 18 years of age. Under special circumstances, volunteers can be as young at 10 years of age. Minors must be accompanied by a parent, legal guardian, or state approved trip leader (e.g., teacher, scout leader).

Volunteers must be prepared for austere living conditions with only basic amenities. Volunteers must provide their own camping, hygiene, and comfort items. Volunteers will coordinate and cooperate on shared meals and groceries. For a full list of recommended supplies, see the equipment list in the volunteer paperwork area.
Trip Rules
Remember you are representing the National Park Service during your trip. Please conduct yourself with that in mind.
No pets.
No smoking on vessels.
No cliff jumping on off-duty time.
No collecting natural of archeological resources from the park.
Unruly, disorderly, disrespectful behavior will not be tolerated.
Limitations
Although the assigned location may be near developed park areas, volunteers should be prepared to have only basic amenities available for the entire trip. The park will provide certain items. All volunteers must provide food and other personal items. Check here for the lists of items provided and what you need to bring. The Tue GRIT Pilot, according to the work schedule, will coordinate leisure time.
Apply for a Trip
Trips are limited to 4 volunteers and are booked on a first come first come served basis. Volunteers must be at least 18 years old. This is a very popular program and trips fill quickly. The more flexible you are, the more likely it is that we will be able to place you. Please refer to the trip calendar at the bottom of the page for exact dates. If you are also applying for the Trash Tracker program, please send a seperate application. Both Trash Tracker and GRIT trips will be filled at the same time to prevent overlap.
In order to be booked with your friends, please indicate the names of others in your group on the application form. If this is not done, you will not be scheduled on the same trip. If you have the same physical address, you may put both names on one application form. Otherwise, you must fill out a separate application form. Email to find out about special trips for youth groups, veterans, differently abled people, and senior citizens.
In the interest of fairness to all applicants, here is how the application proccess will happen. No applications will be accepted before 7:00 am MST on February 1, 2020. All faxes, emails, and phone calls come with a time stamp, and will be processed in the order they are recieved. If an application comes in before 7:00 am, it will be put on the bottom of the pile of applications. Once your application request is recieved, your paper application needs to be mailed or faxed in within a week.
Questions and/or reservations may be directed to 928-608-6352, or GRIT Reservations. If this link does not work, please send your email to glca_trackergrit (at) nps . gov with the subject "GRIT Reservations"
To apply: please fill out the form provided and mail to the address below or email to the address above. Note: our fax machine is not operational. Emails are preferred.
Glen Canyon NRA Attn-Graffiti Removal & Intervention Team
PO Box 1507
Page AZ 86040
Please fill out the application form. This is a new form for 2020. Do not use older forms, they are obsolete.
If you are chosen for a trip, you will be sent the agreement to be a GRIT volunteer and a form to be signed by a medical professional. The "Doctor's Note" is necessary to ensure that GRIT volunteers to be in good physical condition and health, since duties involve walking over rough or slick terrain, lifting, and being out in the sun for prolonged periods of time.
Trip Schedule
Trips are subject to change and/or cancellation. Applications will be accepted beginning Feb 1, 2020 at 7:00am MST.
TRIPS HIGHLIGHTED ORANGE ARE FULL
TRIPS HIGHLIGHTED RED ARE CANCELED DUE TO COVID-19
True GRIT Trip Schedule 2020

Dates

1

2

3

4

5

6

7

8

9

10

11

12

13

14

15

16

17

18

19

20

21

22

23

24

25

26

27

28

29

30

31

April

Trip #1
April 20-24

Trip #2
April 27 - May 1

May

#2

Trip #3
May 18-22

Trip #4
May 25-29

June

Trip #5
June 1-5

Trip #6
June 8-12

July

August

September

October

Trip #7
October 5-9

Trip #8
October 12-16

Trip #9
October 26-30
needs 1

November

Trip #10
November 2-6
needs 2

Antelope Point Trips are Highlighted in YELLOW

Bullfrog Trips are Highlighted in BLUE


Last updated: April 8, 2020