Visitor Centers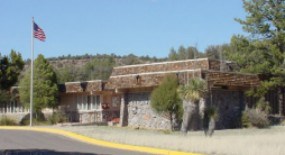 Exhibits
A small museum, located inside the Visitor Center, includes Mogollon artifacts from the Gila Cliff Dwellings and surrounding area and an exhibit on the Chiricahua Apache who consider the wilderness to be their homeland. Additionally, a 20 minute park film is available on-demand in the museum theatre.

Available Facilities
Wheelchair-accessible restrooms are outside the main visitor center and are always open for use. The Gila region is PACK IT IN--PACK IT OUT. There are no trash cans or dump stations. Please take all of your trash to a nearby city that has garbage and recycling.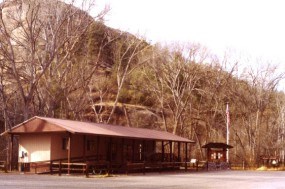 Trailhead and WNPA Bookstore
Check our Operating Hours and Seasons for current hours.

Location
The trailhead and bookstore are located two miles from the Visitor Center, at the northern end of State Highway 15.

Cliff Dwellings Trail
The one-mile loop trail to and through the cliff dwellings climbs 180 feet above the canyon floor to an elevation close to 6000 feet. Allow a minimum of one hour for the round-trip hike. The trail is not wheelchair accessible. Views of the some of cliff dwellings are possible after a 1/4-mile hike in the canyon bottom. The trail that continues to the dwellings is steep and rocky in places and can be muddy or icy at times. Wear sturdy shoes, pace yourself (use the benches), and carry water.
Available Facilities
The Trailhead Bookstore is wheelchair accessible. Four vault toilets are placed around the parking lot. The trailhead to the cliff dwellings starts next to the Trailhead Bookstore.
Pets
Because pets are not permitted on the trail to the dwellings, complimentary kennels are available at no charge. Trained service dogs are allowed on the trail.
Picnic Tables
In order to help preserve the cliff dwellings, food is not permitted on the Cliff Dweller Trail or within the dwellings. Picnic tables with shade cover are available near the Trailhead Bookstore.


Last updated: November 6, 2021