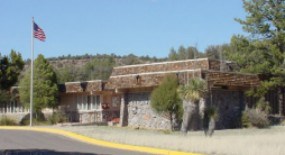 Gila Visitor Center
Open Every Day from 8 am to 4:30 pm Mountain Time

Phone: 575-536-9461
Fax: 575-536-9344
Exhibits
A small museum includes Mogollon artifacts from the Gila Cliff Dwellings and surrounding area and an exhibit on the Chiricahua Apache who consider the wilderness to be their homeland.

Available Facilities
The Visitor Center contains a Park store operated by the Western National Parks Association. Many items related to the park, the Wilderness, and to the Continental Divide Trail are available; as well as hand made pottery, stone fetishes, and jewelry crafted by Zuni, Apache, Hopi, and other regional tribes. Wheelchair-accessible restrooms are outside the main visitor center and are always open for use. The Gila region is PACK IT IN--PACK IT OUT. There are no trash cans or dump stations. Please take all of your trash to a nearby city that has garbage recepticles and recycling.