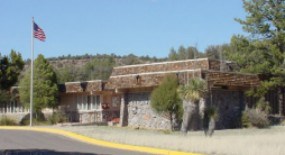 Gila Visitor Center
Open Every Day from 8 am to 4:30 pm Mountain Time

Phone: 575-536-9461
Fax: 575-536-9344

Exhibits
A small museum includes Mogollon artifacts from the Gila Cliff Dwellings and surrounding area and an exhibit on the Chiricahua Apache who consider the wilderness to be their homeland. A 15-minute video illustrates what life may have been like for the Mogollon who built and occupied the Cliff Dwellings.

Available Facilities
The Visitor Center contains a bookstore operated by the Western National Parks Association and wheelchair accessible restrooms.