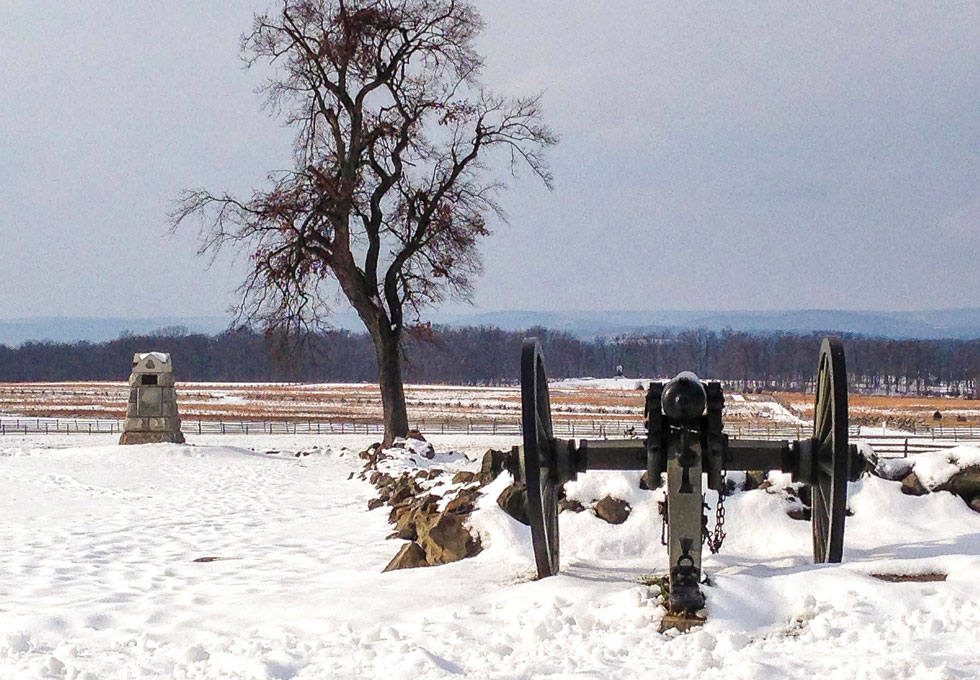 News Release Date:
November 30, 2016
Contact: Katie Lawhon, 717-338-4402
Gettysburg, PA – Winter is a great time to visit and explore Gettysburg National Military Park. On January 7, the park's new winter programs begin. This year Gettysburg National Military Park is offering lectures, a book series, farm programs, and a new reading adventures program for children ages 5 to 10 and their families. These FREE programs run January through early April at the Gettysburg National Military Park Museum and Visitor Center.   
Winter Reading Adventures begins January 7 and runs every Saturday through March 11 from 11 am – 11:45 am. "Our new Winter Reading Adventures program is for kids who love to read, parents who want their kids to love to read, and for budding history buffs everywhere!" explained the park's education specialist, Barbara J. Sanders.   
Each Saturday morning, a park educator will read aloud a picture book, or parts of a chapter book, followed by an indoor game, activity, or visitor from the past…then provide instructions for an outdoor winter adventure for participating families.   
Additionally Gettysburg will continue its popular Winter Lecture Series and Battlefield Book Series. Featuring some of the best National Park Service rangers and historians from across the region, the 11-week Winter Lecture Series of hour-long talks will examine some of the more controversial and complex aspects of the American Civil War. From Emancipation to the legacy of George McClellan, the Lincoln Assassination to the Battle of Gettysburg, the history of the American Civil War is fraught with myths, misconceptions, and controversies. The Winter Lecture Series is held at 1 pm on weekends in the Gettysburg National Military Park Museum and Visitor Center from January 7 through March 12, 2017.  
Meeting from 11 am until noon every Saturday from January 7 to March 11 the Gettysburg Battlefield Book Series will examine significant works of history and literature on topics related to the Battle of Gettysburg and the American Civil War. Gettysburg National Military Park invites you to read along over the course of the winter before attending the informal one hour discussions in the Ford Education Center of the park Museum and Visitor Center. Park staff will lead the meetings, providing a brief overview of that week's topic and discuss the chapters read.  
From January 7 to February 4 the Gettysburg Battlefield Book Series will examine our first book, The Killer Angels, by Michael Shaara. Winner of the 1975 Pulitzer prize for Fiction, it is an account of the battle of Gettysburg from the perspective of some of the key figures who were involved in the climactic event. From February 6 to March 11, read along as we delve into Sickles at Gettysburg by James Hessler and explore the controversial life of one of Gettysburg most fascinating individuals.  
Every Saturday and Sunday from March 12 to April 2, the park will host its new Farms of Gettysburg program. Join a Park Ranger in the museum's Ford Education Center and discover the fascinating stories of the historic farms that still stand on the battlefield, and the people who once called Gettysburg home. These forty-five minute lectures begin at 1 pm are free and open to the public.  
Visit our Ranger Programs page for more information
 or call at (717) 338-4468.