News Release
Joe Lachowski has been selected at the new chief ranger for Gettysburg NMP and Eisenhower NHS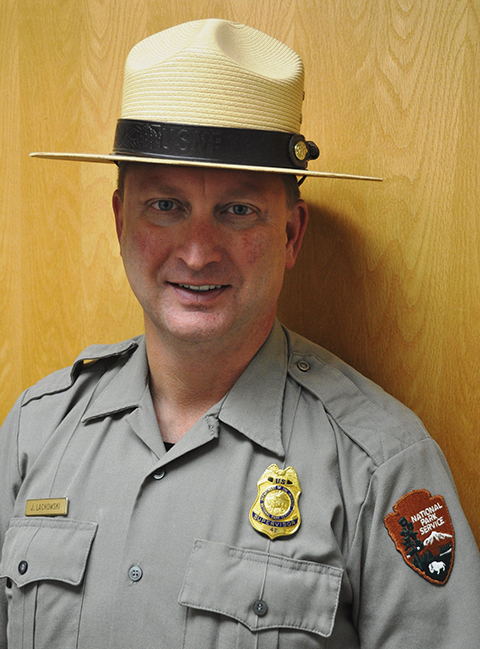 News Release Date:
November 13, 2018
Contact: Katie Lawhon, 717-338-4402
Joe Lachowski has been selected to serve as the new chief ranger for Gettysburg National Military Park and Eisenhower National Historic Site, the National Park Service announced today. The chief ranger serves as the senior law enforcement officer for Gettysburg and Eisenhower parks, responsible for the planning, direction, and execution of programs dealing with law enforcement and resource protection, emergency services and safety.   
"Growing up on the East Coast, I am excited to return to the area and serve the visitors and employees at these iconic parks" said Lachowski. "I enjoy working in a variety of challenging situations and I am looking forward to becoming part of the hard-working team at Gettysburg and Eisenhower national parks."  
"We are delighted to have Ranger Lachowski join the staff," said Lewis H. Rogers, acting superintendent at Gettysburg National Military Park and Eisenhower National Historic Site. "His depth of experience along with his leadership skills will be great assets to park operations, ensuring safe and successful experience for our more than one million annual visitors."  
Lachowski was a supervisor and protection ranger in both Sleeping Bear Dunes National Lakeshore and Grand Teton National Park. He is currently attending the National Park Service's GOAL Academy, a leadership and organizational advancement program. His experience includes all aspects of supervision, management, the incident command system, complex investigations, daily law enforcement operations, structural and wildland fire management and operations, emergency medical services, search and rescue operations and interagency cooperation and operations.  
The Secretary of the Interior presented Lachowski with an 
award for valor
 in 2014 for the rescue of a drowning victim in extreme surf conditions in Lake Michigan. He has held a number of positions in the National Park Service since 1997. He has a Master of Science in Wildlife Ecology from the University of Maine, Orono, and a Bachelor of Science in Wildlife Management from Utah State University.   
Lachowski will begin his new duties in January.
Last updated: November 20, 2018