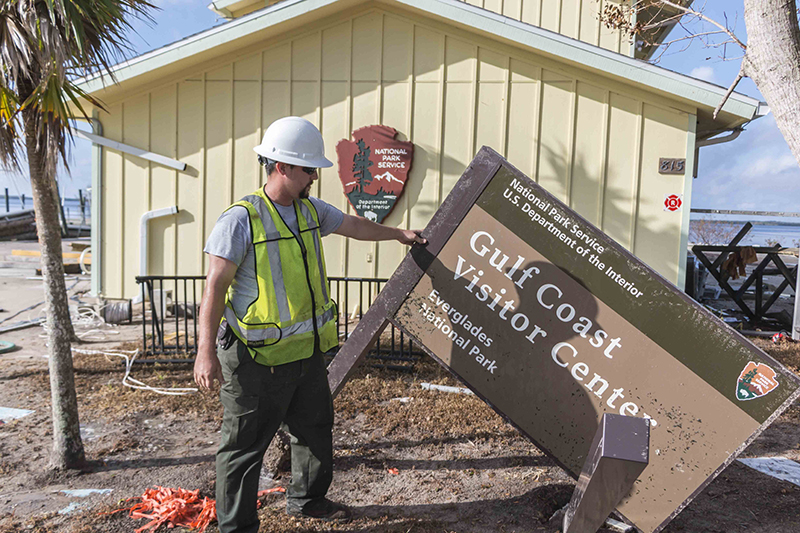 News Release Date:
September 19, 2017
Contact: Jason Martz, 717-338-4423
Gettysburg, PA: National Park Service (NPS) staff at Gettysburg National Military Park (NMP) are supporting parks throughout Florida, the Caribbean, and the Atlantic coast to assist with clean-up and damage assessment efforts in the wake of Hurricane Irma. There are currently 20 staff members from Gettysburg NMP deployed to the NPS Eastern Incident Management Team (IMT) supporting the hurricane response.
The Eastern IMT is made up of experts in their field. Currently, 88 national parks in 33 states are supporting the hurricane response. In all, 311 NPS employees from outside the affected parks are assisting. The NPS Eastern IMT is in its second week of operation. Immediate objectives are to support employee emergency needs, conduct damage assessments, and remove debris in the affected areas, while keeping an eye on developing storms that may threaten national parks later this week.
"We are supporting our National Park Service colleagues throughout the hurricane ravaged areas," said Acting Superintendent Bill Justice. "I'm proud to send our dedicated staff to help in any way they can."
At Gettysburg, all park operations including law enforcement and safety patrols, interpretation, and cultural & natural resource protection will continue during these hurricane deployments. The most visible impact to the parks may come in the form of delayed mowing and trimming operations. As always, the safety of all park visitors and park resources remains our highest priority.
Full list of affected parks and incident information:
https://www.nps.gov/aboutus/news/severe-weather-response.htm
Photos of affected areas:
https://www.flickr.com/photos/nps_eimt/albums
Gettysburg National Military Park preserves, protects and interprets for this and future generations the resources associated with the 1863 Battle of Gettysburg, during the American Civil War, the Soldiers' National Cemetery, and their commemorations. Learn more at www.nps.gov/gett.