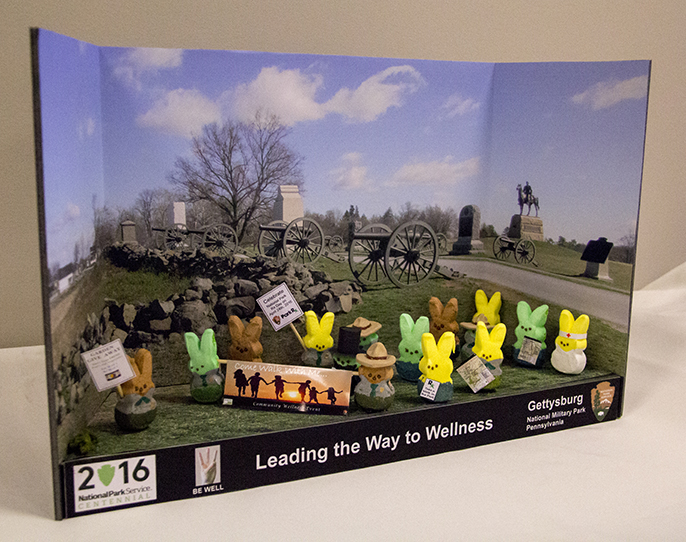 News Release Date:
April 6, 2016
Contact: Katie Lawhon, 717-338-4402
Curt Musselman, Gettysburg National Military Park's Employee Wellness Team Chairman, has created a Peep Diorama for the "Healthy Parks, Healthy Peeps: A National Park Service (NPS) Centennial Diorama Contest." 
The diorama shows National Park Service employees and the public walking together under the watchful eye of General Meade on Cemetery Ridge at Gettysburg. Some of the peeps are walking behind the "Come Walk With Me" banner, while others are holding walking route maps, walking prescriptions or carrying signs with messages about wellness and being safe and healthy. 
The park is co-sponsoring
"Come Walk With Me,"
a community wellness event on April 30 as part of the Healthy Parks Healthy People initiative and the
NPS Centennial
. The event features a fitness fair at Warrior stadium in Gettysburg and includes walks on Culp's Hill leading to several interpretive and living history programs. At the stadium the public can try free yoga, Jazzercise, Zumba, a fitness boot camp and a kids' obstacle course. 
"All of the peeps in the diorama are being physically active in one way or another," said Musselman, "which is a good example for all of us whether we are made out of sugar or flesh and blood." 
The trails and avenues of the Gettysburg National Military Park have been a favorite location for the public to hike, bike and run for many years. Gettysburg National Military Park's employee wellness program provides opportunities for employee networking and education as well as exercise. The program is addressing the other components of wellness by establishing a garden giveaway table, encouraging smoking cessation, leading gleaning of Gettysburg's historic fruit orchards, and sponsoring blood screenings in the workplace. 
Gettysburg National Military Park is a unit of the National Park Service that preserves and protects the resources associated with the Battle of Gettysburg and the Soldiers' National Cemetery, and provides an understanding of the events that occurred there within the context of American history.