News Release
Ed Wenschhof Jr. arrives as acting superintendent at Gettysburg National Military Park and Eisenhower National Historic Site
Date:
December 10, 2018
Contact:
Katie Lawhon
, 717-338-4402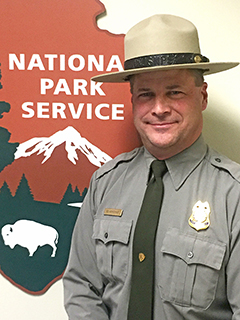 Ed Wenschhof Jr. has arrived as the acting superintendent of Gettysburg National Military Park and Eisenhower National Historic Site. He will serve in this position until approximately April 5, 2019.  
Wenschhof currently serves as Chief Ranger at the
C&O Canal National Historical Park
, which follows the route of the 184.5 mile canal along the Potomac River from Washington D.C. to Cumberland Maryland. He has a wide depth of experience in management roles including serving as Acting Superintendent at
Antietam National Battlefield
and
Catoctin Mountain Park
.  
"I am very appreciative of the opportunity to serve as acting superintendent for Gettysburg National Military Park and Eisenhower National Historic Site—the parks where I started my National Park Service career in 1984," said Wenschhof. "I look forward to working with my NPS colleagues, park visitors, partners and the local community."  
Wenschhof worked for eight years at the Gettysburg parks, then transferred to Antietam National Battlefield in Sharpsburg, Maryland, where he served for many years as chief of natural resources management and law enforcement. Since 2013 he has served in several positions at the C&O Canal National Historical Park and is currently the Chief Ranger. He is active in special event operations and served as incident commander for the 150th anniversaries at Manassas and Antietam and assisted with the Gettysburg 150th as well.  
Gettysburg National Military Park preserves, protects and interprets for this and future generations the resources associated with the 1863 Battle of Gettysburg, during the American Civil War, the Soldiers' National Cemetery, and their commemorations. Learn more at 
www.nps.gov/gett
.  
Eisenhower National Historic Site preserves and interprets the home and farms of the Eisenhower family as a fitting and enduring memorial to the life, work, and times of General Dwight David Eisenhower, 34th president of the United States, and to the events of far-reaching importance that occurred on the property. Learn more at 
www.nps.gov/eise
.
Last updated: December 11, 2018