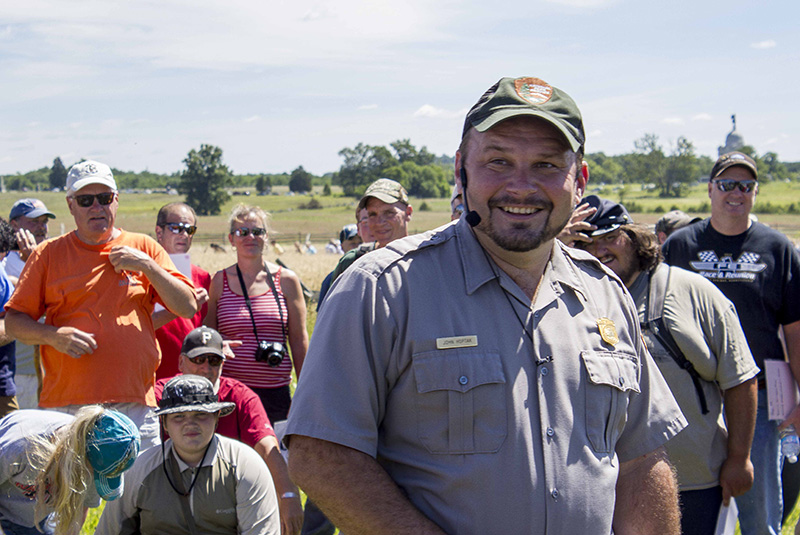 News Release Date:
May 22, 2017
Contact: Chris Gwinn, 717-338-4427
Gettysburg National Military Park's free summer interpretive program series begins June 10, offering visitors insight into the people and places that made history during the Battle of Gettysburg and the American Civil War.
During the programs, visitors will be able to hike the fields of Pickett's Charge, explore the rocky summit of Little Round Top, reflect on the words of the Gettysburg Address, and much more on these Ranger-guided experiences. There are a host of new and exciting offerings that will appeal to first-time and repeat visitors alike.
Open House at Meade's Headquarters and the Abraham Brian Farm -
Step into history at the Lydia Leister and Abraham Brian Farms. Both farms played an important role in the fighting that took place on Cemetery Ridge and witnessed key moments during the battle. Explore the interiors of the two farms' historic homes on Saturdays and Sundays, 10 am – 4 pm. 
Battlefield in a Box (30 minutes) -
Become a part of the battlefield in this interactive overview program. Join a National Park Ranger and build a map of the battlefield using props. This is a perfect opportunity for the first-time visitors wanting a better understanding of the battle. Meet at Ranger Site 1, behind the Museum and Visitor Center, daily at 9 am & 4 pm.
History at Sunset (60 minutes)
-
Explore a new chapter of the Gettysburg story every Thursday and Friday evening with a National Park Ranger. From dinosaur footprints to hidden monuments, World War I tanks to Civil War battle damage, Gettysburg is more than first meets the eye. Visit the
park website
for a full listing of all History at Sunset topics and locations. Every Thursday and Friday at 8 pm. Starting locations vary so check online for a full schedule.
Cannoneers to your Post (30 minutes)
-
On July 3, 1863, over 200 Union and Confederate cannon opened fire in one of the largest artillery duels of the war. Join a National Park Service living historian and become a part of a gun crew as you discover the role artillery played during the Battle of Gettysburg. Meet at Ranger Program Site 1 at the Museum and Visitor Center, Wednesdays, Fridays, Saturdays, and Sundays at 1 pm.
Summer Reading Adventures (60 minutes)
-
Each Sunday throughout the summer, a park educator will read aloud a picture book, or parts of a chapter book, followed by an indoor game, activity, or visitor from the past… and then offer instructions for an outdoor adventure with your family. For a full list of Summer Reading Adventure titles, visit the
park website
. Meet at the Museum and Visitor Center, Sundays at 1 pm.
Coffee with a Ranger (15 Minutes) –
Our first-ever program exclusively for a digital audience! Join us on Facebook Live and Periscope every Saturday morning at 8:30 am and 8:45 am from the comfort of your home as we explore a different location and aspect of the battle, battlefield, and Civil War. Don't forget to
Like us on Facebook
and
Follow us on Twitter
to stay up-to-date on the latest programs and news from Gettysburg National Military Park.
Gettysburg National Military Park is a unit of the National Park Service that preserves and protects the resources associated with the Battle of Gettysburg and the Soldiers' National Cemetery, and provides an understanding of the events that occurred there within the context of American history. For a complete listing of all of the free summer ranger programs,
please visit our website
or pick up the Today in the Park planning guide available at the Park Service information desk inside the Gettysburg National Military Park Museum and Visitor Center, 1195 Baltimore Pike, Gettysburg.