Research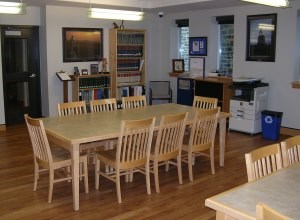 THE PARK LIBRARY AND RESEARCH CENTER

The primary focus of the park library is to manage the park's collection of books and records relative to the American Civil War, the Gettysburg Campaign, dedication of the Soldiers' National Cemetery, and the development, interpretation, and administration of Gettysburg National Military Park. Our holdings include bound volumes, vertical files, manuscripts, photographs, maps, microfilm and audio-visual materials as well as some rare first edition regimental histories, campaign studies, and memoirs. The library is a historic reference facility and study center for the use of park staff in research, planning and writing park programs, providing information that will enhance the interpretation of the battlefield and National Cemetery.
The Gettysburg National Military Park Library and Research Center is open to the public by appointment only. For additional information on the library and our holdings, visit the park's Library and Research Center page.
---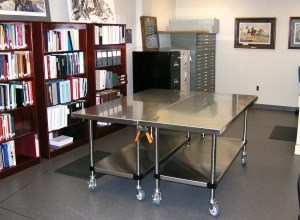 OFFICE OF MUSEUM SERVICES
The Office of Museum Services is responsible for the care and preservation of the park's collection of original historic objects associated with the Battle of Gettysburg and the Soldiers' National Cemetery. These objects, which comprise the park's museum collection, consist of three-dimensional items related to the Civil War, the battle of Gettysburg, and the post-war commemoration of the battle. The Park Archives are also in the Office of Museum Services, composed of original Civil War manuscripts such as diaries, letters, and selected unit records, manuscripts, photos, and maps relative to the development and history of Gettysburg National Military Park. (Most of the Civil War and battle related paper items have been copied for the research collection in the park library.) The Office of Museum Services also has responsibility for the care and maintenance of the exhibits in the Museum and Visitor Center and at the Wills House.
Access to research in the Park Archives or to view items from the museum collection that are not on display is by appointment only. For further information or to make an appointment, call (717) 338-4451.
---
Borough of Gettysburg and Adams County History
The park library does not maintain census records, genealogical or land ownership records of Gettysburg and Adams County residents outside of the battlefield district. For information on the history of this county and the residents who inhabited the area, researchers should contact the Adams County Historical Society at
www.achs-pa.org
.
---
Last updated: December 16, 2015