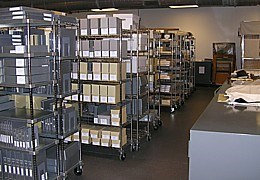 Gettysburg National Military Park maintains a large and diverse museum collection that is used to tell the story of the people and events surrounding the famous Battle of Gettysburg, the dedication of the Soldiers' National Cemetery and Gettysburg Address, the aftermath of the battle and the war, and items related to Gettysburg as it was developed into a national military park. Maintenance and care of this vast resource is the responsibility of the Office of Museum Services, which is located in the Gettysburg National Military Park Museum and Visitor Center. As with all museums, only a small percentage of the collection is on exhibit in the Museum Gallery and the items not on display are preserved in a controlled storage environment where they are protected and receive periodic care to insure their long term preservation.
The centerpiece of the park's museum holdings is the famous Rosensteel Collection, amassed over many years by the Rosensteel family of Gettysburg. Many of the relics from their collection were first displayed in a new museum built by the family in 1912 just across the street from the Soldiers' National Cemetery. The Rosensteel's collection grew as did their museum, which later included an "electric map" exhibit around which were galleries cases exhibiting countless Civil War weapons, uniforms, collections of locally recovered items, photographs and paintings of many different subjects. This incredible collection was given to the United States government in 1971 and continued to be exhibited in the old park visitor center. The care and maintenance of this collection as well as those items previously owned by the National Park Service, became a priority in 1993 and featured in the 1999 General Management Plan. In 2008, the collection was moved into its current home at the Museum and Visitor Center.

Many of the objects that were familiar to our repeat visitors are once again featured in the new exhibits in the Museum and Visitor Center. Additionally, items related to President Abraham Lincoln's visit to Gettysburg in 1863 and the establishment of the Soldiers' National Cemetery have been placed on display at the David Wills House in Gettysburg, which opened to the public in February 2009.