Park Library & Research Center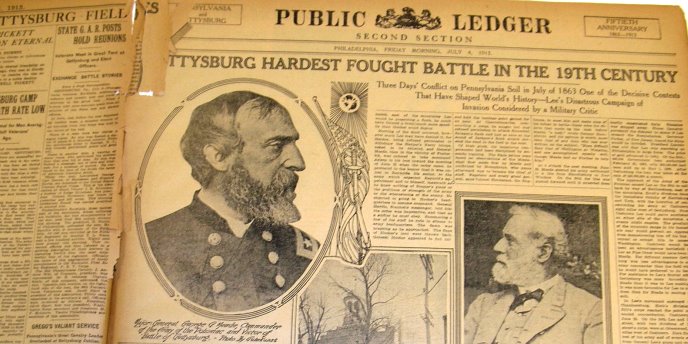 Gettysburg National Military Park maintains a library of books and manuscripts relative to the American Civil War, the Gettysburg Campaign, dedication of the Soldiers' National Cemetery, and the development, interpretation, and administration of Gettysburg National Military Park. Library holdings include books, bound volumes, vertical files, manuscripts, limited photographs, maps, microfilm and audio-visual materials. Within our collection are a number of rare first edition regimental histories, campaign studies, and memoirs.
Research Hours: Monday through Friday from 8:30 a.m. to 4:30 p.m. (Hours are subject to change due to staffing requirements.)
The Library Reading Room is open for public research by appointment only. Appointments should be made at least twenty four hours in advance. Researchers are required to sign in when visiting the facility. Laptop computers, digital cameras, notebook paper, and pencils are welcome but personal files and paper collections are not allowed without pre-arrangement with library staff. Access to the stacks, vertical files, and rare books is through the assistance of library staff only. Use of the library may be limited on specific days throughout the year and days when the library is not available are regularly updated on this page. Please note that the park library is closed on all Federal holidays.

There is a copy machine in the Reading Room for researchers, which is capable of scanning documents and digitially saving them to a jump drive. Effective March 12, 2017, researchers who desire to copy materials over thirty pages in volume must use a jump drive to scan and save the documents in digital form. This is to prevent waste and preserve library resources.

Policy on Requests for Copies: Effective June 6, 1998, requests for copies of material from the library must be made in writing and are limited to six requests per person per year. Copies are limited to 30 pages per request. We reserve the right to refuse requests to provide copies of entire files simply for personal collection. Some library holdings may not be reproduced due to poor condition or restricted use outside the park. Additionally, there are some documents we recommend be obtained from the original source or repository. Gettysburg National Military Park reserves the right to refuse requests from parties outside of the National Park Service where conflict in copyright and ownership of materials may arise. The library staff is limited and replies will take time, so your patience is requested.
Library Address:
Gettysburg National Military Park
Attn. Library
1195 Baltimore Pike, Suite 100
Gettysburg PA 17325
Phone: (717) 338-4424 (Monday through Friday, 8 a.m. to 4:30 p.m. EST)
Fax: (717) 334-1997
---
LIBRARY ACCESS- SPECIAL CLOSURE DATES
The park library is closed on all Federal holidays and will not be available for appointments on these dates in 2017 (updated monthly):

September 27.
October 30 - November 3
November 22, 24.
---
LIBRARY VERTICAL FILE & ARCHIVAL BOX COLLECTIONS

The park Library and Research Center is organized into collections by subject matter and sorted by volume, source of the materials, collections, and the kind of materials that are housed for research. Our main two systems are the Vertical File Drawer Collection and the Archival Box Collection, the latter subdivided into collections donated to the park by researchers and authors. To view the indexes of these collections, please visit our LIBRARY RESOURCE GUIDE.
---
GETTYSBURG & ADAMS COUNTY HISTORY
The park library does not maintain census records, genealogical or land ownership records of Gettysburg and Adams County residents outside of the battlefield district. For information on the history of this county and the residents who inhabited the area, researchers should contact the Adams County Historical Society at
www.achs-pa.org
.
---
Last updated: September 26, 2017