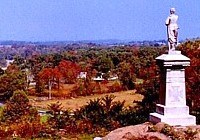 Support your park with a financial contribution!

Gettysburg National Military Park has always relied upon the generosity of visitors, social and educational groups, corporations and small businesses with contributions made through donation boxes located in the park visitor center. Donations made to the park have contributed to park preservation and battlefield rehabilitation projects, stabilization of the unique museum collection, expansion of interpretive services and living history programs, and repairs to field exhibits, cannon carriages and monuments. The generosity and kindness of our visitors made these projects happen and we wish to thank everyone for their donations to the park and support of our park friends organizations.
Gettysburg National Military Park accepts financial donations by mail and by a contribution box located in the Museum and Visitor Center. For further information on donations, contact the park at (717) 334-1124.
If you would like to make a donation through the mail, you can send your contribution to this address:
Office of the Superintendent
Gettysburg National Military Park
1195 Baltimore Pike, Suite 100
Gettysburg, PA 17325

Please make checks out to the National Park Service.
For security reasons, the park cannot accept on line contributions.