Operating Hours & Seasons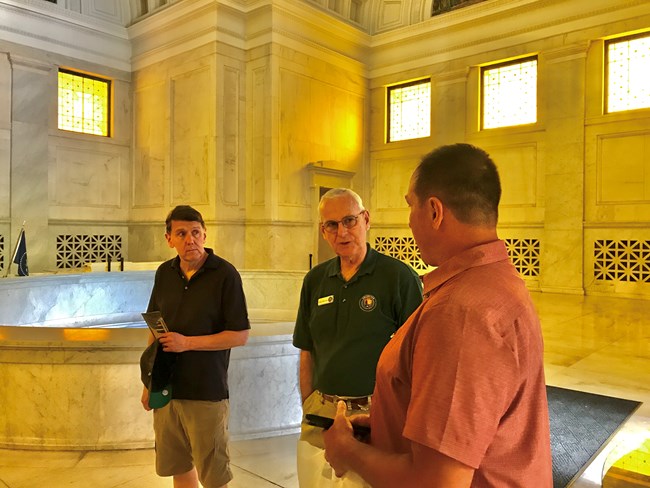 Look Before You Leap:
Check CURRENT CONDITIONS for any unexpected closures due to inclement weather, park safety conditions, or other unexpected factors.
---
Current Operating Hours

OPEN AREAS:
At General Grant NM unrestricted access is allowed to:
General Grant NM Main Plaza
General Grant NM Overlook Pavilion

LIMITED ACCESS AREAS:
With public health limitations still in mind General Grant NM offers limited access to the following areas (see below for details):
General Grant NM Mausoleum and Mosaic Benches

CLOSED AREAS:
With public health in mind, the following facilities/operations remain closed/suspended at this time:
General Grant NM Visitor Center and Public Restroom Facilities

Open areas listed above are accessible from 9 am to 5 pm Wednesday to Sunday

The open hours for the limited access areas, namely the interior of the mausoleum currently are:
SUNDAY: 10AM-12PM, 1PM-4PM
MONDAY: Closed
TUESDAY: Closed
WEDNESDAY: 10AM-12PM, 1PM-4PM
THURSDAY: 10AM-12PM, 1PM-4PM
FRIDAY: 10AM-12PM, 1PM-4PM
SATURDAY: 10AM-12PM, 1PM-4PM
Federal Holidays listed below: 10AM-12PM, 1PM-4PM

The other restrictions in place are:
No more than 10 visitors are allowed inside the mausoleum at any one time.
Only the main level of the Mausoleum is open at this time.
Federal Holiday Exceptions
The entire site is
CLOSED
for the following federal holidays even if it falls on a day when we are normally open:
Thanksgiving Day (4th Thursday in November)
Christmas Day (December 25)
New Year's Day (January 1st).
However, ONLY the areas listed above in the news release will be OPEN for the following federal holidays, even if it falls on a day that we are normally closed:
Birthday of Martin Luther King, Jr. (Third Monday in January)
Washington's Birthday or Presidents' Day (Third Monday in February)
Memorial Day (Last Monday in May)
Independence Day (July 4)
Labor Day (First Monday in September)
Columbus Day (Second Monday in October)
Veterans Day (November 11)

Closures: The General Grant National Memorial may close in cases of inclement weather. Always check the ALERTS page, or call the visitor center at (646)-670-7251 to verify the opening hours of the site.


Last updated: April 8, 2022