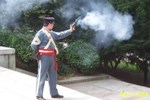 Black Powder, White Smoke
Grant's tomb is the only facility in Manhattan which presents historic weapons demonstrations as part of its interpretive programs. Fully trained National Park Service Rangers, dressed in authentic reproduction uniforms, help bring military science alive through talks, presentations and a dry firing demonstration. Several dry firing demonstrations are part of the sites educational outreach program (www.nps.gov/ert/, and follow the links to General Grant National Memorial) and can be a fantastic way to illustrate the class studying the Mexican American War or the American Civil War.
Several special events through-out the year include historic weapons demonstrations including Veteran's Day, Memorial day and Grant's Birthday, April 27th. In addition, the ranger staff offers these programs through-out the year. If you have a group that wishes this unique service, we are more then willing to accommodate. Please call ahead for more information or to make a reservation at 212-666-1640.