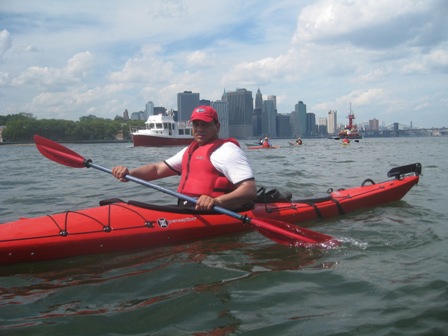 News Release Date:
May 19, 2011
Contact: Raina T. Williams, 718-354-4607
Gateway National Recreation Area is now hiring interns to promote health and fitness activities at the park in the Spanish-speaking communities in Brooklyn and Queens. Interns must be fluent in both Spanish and English. The pilot program "Tu Parque, Tu Salud" funded in part by the local American Heart Association's "Tu corazon" initiative, will meet four days a week at Floyd Bennett Field in Brooklyn. The deadline for the park to receive applications is Friday, June 10.
"Gateway is not only a national park, but a local park as well," said Superintendent Linda Canzanelli. "Areas like Floyd Bennett Field offer so much to local residents, such as biking, nature walks, fishing and kayaking. Yet many people who live a short bus ride away may not know all the fun things that families can do at Gateway for free."
The internship coincides with America's Great Outdoors Initiative, launched by President Barack Obama last year as a way for Americans to reconnect with nature while getting healthy exercise. Great urban parks, such as Gateway, offer green spaces for millions of urban residents, especially those who may not own a car or have the time or resources to visit parks in remote areas of the country. Most areas of Gateway's Jamaica Bay Unit can be reached by public transportation.
Any college student or recent college graduate may apply. Participants must be able to work 18-24 hours a week for eight weeks, from June 27 through August 19. Interns must be able to communicate effectively in both Spanish and English and they must show proof of U.S. citizenship and present a medical evaluation, which affirms the applicant's ability to participate in a physical fitness program. (Candidates do not have to be in peak physical condition.)
Interns will receive an orientation to Gateway during the first three weeks of the internship. Daily adventures, with hands-on experiences at various sections of the park throughout Brooklyn and Queens will serve to better acclimate participants. Ultimately, interns will develop networking strategies to initiate and deepen the park's relations with people in the Latino community. Finally, each intern will coordinate and conduct at least two public programs, on the importance and benefits of being physically active, as well as highlighting the many activities available at the park, for Spanish speaking audiences. These programs may take place on weekends. No intern will be asked to lead a program without guidance and support from park rangers.
"Tu Parque, Tu Salud" serves the needs of local residents by promoting healthy exercise, one of the American Heart Association "Simple Seven Health measures, at green places convenient to local communities. Exercise can help residents mediate health problems often found in New York City such as heart disease, diabetes, and asthma. Green spaces also promote emotional well-being by giving local residents a place to get away from the distractions and stresses of an urban environment without actually leaving city limits. Gateway includes several locations in three boroughs of New York City which combine wildlife habitats with dramatic views of the city skyline.
Once the city's first municipal airport, Floyd Bennett Field features not only aviation history but also several ways to enjoy physical activity in a natural setting. Visitors can walk or bicycle along its paths, fish at multiple locations or observe a surprising diversity of wildlife. Students, summer groups and families may camp in tents overnight. Free kayaking and canoeing activities take place during the summer. Areas of Gateway also include Canarsie Pier and Plumb Beach in Brooklyn and Fort Tilden, Breezy Point, Jamaica Bay Wildlife Refuge and Jacob Riis Park in Queens. Swimming is allowed at Riis Park.

About Gateway National Recreation Area
Established in 1972, Gateway National Recreation Area has more than 26,000 acres of marshes, wildlife sanctuaries and recreational athletic facilities, miles of sandy beaches; indoor and outdoor classrooms; picnicking and camping areas, as well as historic structures and military installations, airfields, a lighthouse, and adjacent waters around New York Harbor. The park offers urban residents in two states a wide range of recreational opportunities year round. With more than nine million visitors a year, it is the third most visited national park in the country. For information about Gateway's upcoming public programs, see the park's Web site at https://www.nps.gov/gate/index.htm

About the American Heart Association
Founded in 1924, the American Heart Association is the nation's oldest and largest voluntary health organization dedicated to building healthier lives, free of heart disease and stroke. To help prevent, treat and defeat these diseases—America's No. 1 and No. 3 killers—we fund cutting-edge research, conduct lifesaving public and professional educational programs, and advocate to protect public health. To learn more or join us in helping all Americans, call 800-AHA-USA1 or visit heart.org. The American Heart Association has created seven simple steps that will allow everyone to live longer healthier lives. For more information and to take the Simple 7 "My Life Check" online assessment at http://mylifecheck.heart.org 
—NPS—