News Release
Project Prithvi Exhibit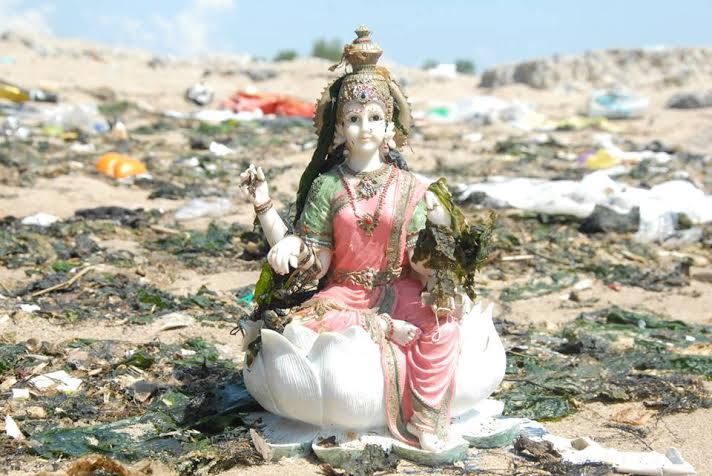 News Release Date:
August 14, 2018
Contact: Daphne Yun, 718-815-3651
Queens, N.Y. - An exhibit showing the transformation of religious offerings collected from monthly cleanups at Jamaica Bay will be on display at the Jamaica Bay Wildlife Refuge Visitor Center starting Aug. 19. The exhibit will be up for about two months.
Sadhana,
a non-profit organization,
has been organizing monthly cleanups near the Joseph Addabbo Memorial Bridge (formerly the North Channel Bridge). The cleanups, held between April and November, began in 2013. Sadhana has been building a progressive Hindu coalition in the New York City since 2011.
Project Prithvi
is Sadhana's grassroots green initiative in which members practice ahimsa (non-violence) by taking care of the environment.  
Sadhana was awarded the Reuse and Repair Grant through Citizens Committee for New York City and utilized it to hold art workshops at the Wildlife Refuge in the spring of 2018. Participants of these workshops refurbished items collected from the monthly cleanups.
This exhibit includes "before" photographs of the items as they looked after being picked up. Their transformation is displayed in the items themselves. Through this exhibit, Sadhana hopes to move devotees to worship in more eco-friendly ways, and to raise awareness among the broader public that the items are offerings being made by devotees and not people who have no respect for nature and to document other activities that are performed by Sadhana.
All items on display were once part of Hindu religious ceremonies, or "pujas," and were therefore religious offerings. They are presented in this exhibit solely for artistic purposes.
Gateway National Recreation Area, National Park Service, has worked closely with Sadhana for the cleanups, providing guidance, support and supplies.
An opening reception will be held Sunday, August, 19, 2 to 4 p.m. There will also be a meet and greet with the exhibit creators and with members of Sadhana. Refreshments will be served.  
About the Jamaica Bay Wildlife Refuge
The Jamaica Bay Wildlife Refuge is part of the Gateway National Recreation Area, National Park Service. The Wildlife Refuge includes over 12,600 acres of water, saltmarshes, freshwater, and brackish water ponds, upland fields and woods, and open bay and islands. It is one of the largest bird habitats in the northeastern United States and is a great place to observe the seasonal bird migration as well as resident species.
For more information about Gateway or the Wildlife Refuge, go www.nps.gov/gate.
Last updated: August 14, 2018