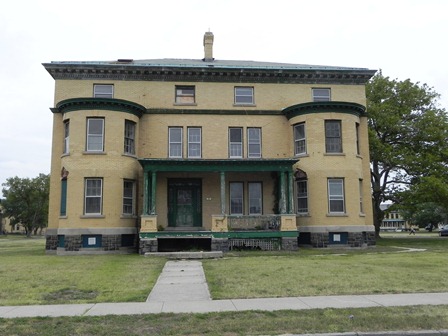 News Release Date:
March 11, 2015
Contact: Daphne Yun, 718-354-4602
 WHO:  About 25 young adults (ages 16-25) from all over the state who learn workplace skills through New Jersey Youth Corps (NJYC) units throughout the state of New Jersey.
WHAT:  Cleanup of Building 27 at Sandy Hook's Fort Hancock.  This building is available for lease from the National Park Service as a bed-and-breakfast.  
WHEN:  Thursday, March 12, 10 AM to 3 PM
WHERE:  Gateway's Sandy Hook Unit, in the heart of Fort Hancock and Sandy Hook Proving Ground National Historic Landmark, which covers the entire Sandy Hook peninsula.  After entering Sandy Hook, drive north for six miles.  Go left at the Y intersection.  Directions to the Hook are at www.nps.gov/gate/planyourvisit/sandyhookdrivingdirections.
WHY:  Gateway National Recreation Area has issued a Request for Proposals to lease two buildings as bed-and-breakfasts.  (Other buildings are available for lease as residences or for non-profit organizations.  For details, see www.nps.gov/gate/parkmgmt/fort-rfp-2015.)  NJYC, with the assistance of The Corps Network, has organized a one-day volunteer effort to clean out this vacant building.  NJYC youths will come from Asbury Park, Jersey City, Paterson and Phillipsburg.  They will don protective suits and respirators and clean floors of dirt and animal droppings.  Cleaning the building will make it more appealing to potential leaseholders; adaptive reuse will preserve the structure for years to come.  The Sandy Hook Foundation has generously agreed to provide lunch for the crew.
About Fort Hancock and Sandy Hook Proving Ground National Historic Landmark
Fort Hancock is located within the Sandy Hook Unit of Gateway National Recreation Area.  The peninsula has played a major role in the defense of New York Harbor from colonial days to the present.  Fort Hancock, a U.S. Army fort, was established in 1895 and operated until it was deactivated in 1974.  Most of the landmark is located in the Sandy Hook Unit of Gateway National Recreation Area.  For information about Gateway's upcoming public programs. see the park's Web site at www.nps.gov/gate.  To join the conversation about Gateway, like us on our Facebook page at www.Facebook.com/Gatewaynps.
About New Jersey Youth Corps & The Corps Network
New Jersey Youth Corps is one of the largest youth services and conservation corps in the United States.  Youth Corps is a year-round, voluntary program which engages young adults (ages 16-25) in full-time community service, training and educational activities. Guided by staff who serve as mentors and role models, teams of youth carry out a wide range of service projects:  from working in soup kitchens and delivering Meals on Wheels to environmentally themed service projects like tree planting and trail construction.  Funded through the New Jersey Department of Labor & Workforce Development, Youth Corps programs operate in 12 locations throughout New Jersey.  More information about New Jersey Youth Corps can be found at http://jobs4jersey.com/jobs4jersey/jobseekers/youth/youth-index.html.
The Corps Network provides critical leadership to the Corps movement and to our nation's Service and Conservation Corps as they harness the power of youth and young adults to tackle some of America's greatest challenges and transform their own lives.  The Corps Network's 100+ Members operate in all states and the District of Columbia.  Each year they collectively enroll approximately 26,000 Corpsmembers from ages 16-25.  For more information, visit http://thecorpsnetwork.org/about