Requests for Proposals to Lease Six Buildings at Fort Hancock
This RFP is closed, but a similar one is open NOW
This webpage is for a Request for Proposals (RFP) which has concluded. However, another RFP is currently OPEN for buildings on Officers Row. Find out more here.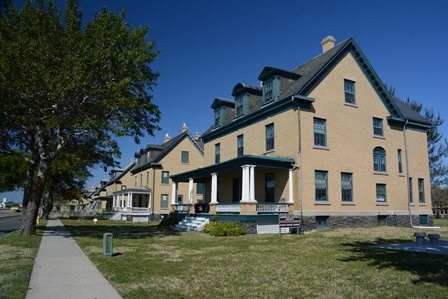 NOTE: The application deadline for the pilot project is now CLOSED. This page is being left in place for information purposes only.
Gateway National Recreation Area has issued three Requests for Proposals (RFPs) for leasing up to six historic Army buildings within the Fort Hancock and Sandy Hook Proving Ground National Historic Landmark, which encompasses all of Gateway's Sandy Hook Unit. The park will accept lease applications through April 17, 2015.
In this pilot phase of Fort Hancock's renewal, Gateway will lease up to six buildings: two as bed-and-breakfasts, two as residences or residence/offices and two for not-for-profit/education organizations. The deliberate pace of rehabilitation will help the National Park Service (NPS) lay a secure foundation for a community that will include over three dozen historic structures in the heart of Fort Hancock. A map that details how the NPS envisions the elements of a new Fort Hancock can be seen below.
Requests For Proposal (RFPs)
RFP Bed-and-Breakfasts (Buildings 6 & 27)
RFP Residences and Residence/Offices (choose from Buildings 8-17)
RFP Not-For-Profit/Education Organizations (choose from Buildings 23-25, 40, 53, 55-57, 60, 70)
Attachments
Attachment A: Sample Lease
Attachment B: Sample Offeror's Transmittal Letter
Attachment C: Instructions for Financial Forms
Attachment D: Financial Forms (This is an Excel form which will download as read-only. To be able to use it, you must first save it to your own computer.)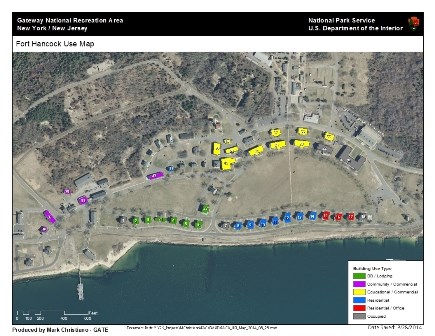 How are Lessees selected?
This is a federal process with well-defined parameters. Neither committee members nor employees of Gateway will select winning applications. See this brief PowerPoint for an introduction to the RFP application and selection process.
How do I submit an application?
Applications can be accepted either electronically via email or via regular mail. Telephonic proposals, faxes and other means of transmittal will not be considered. Proposal submittals will not be returned.
Applicants are advised that the U.S. Government will not pay for any information or administrative costs incurred in response to this notice. Not responding to this notice does not preclude participation in any future RFP.
Frequently Asked Questions (FAQs) and their answers
You asked, we answered. This list of FAQs was made available at the Open House held on Sunday, March 22 at the Sandy Hook Chapel. As more questions are submitted, this list of questions will be updated. (Last updated 4-01-15.)
---
RFP Release Date: December 12, 2014
---
Opportunity: Lease an historic building at Fort Hancock for residence, office, establishing a bed-and-breakfast or creating a location for a not-for-profit organization.
---
Location: Fort Hancock "main post" (north of Guardian Park) at the Sandy Hook Unit of Gateway National Recreation Area. Directions to Sandy Hook and Fort Hancock can be found here.
---
Term: Flexible up to 60 years.
---
Site Tours: By prior arrangement only. Please contact John Warren at 732-872-5908 or e-mail us.
Question Submission Deadline: March 16, 2015
---
Proposed Submittal Deadline: April 17, 2015 by 1:00 PM EST.
The face of the sealed envelope shall include the Applicant's name and address, along with the following address and information:
Superintendent
Gateway National Recreation Area
210 New York Avenue
Staten Island, New York 10305
Attention: Fort Hancock RFP (mention type of RFP---residence, bed-and-breakfast or not-for-profit)
BIDS ENCLOSED- MAILROOM DO NOT OPEN
You may also e-mail us with an electronic application.
---
Anticipated Date for Selection: Five weeks after submittal deadline.
---
Anticipated Lease Commencement: Subject to negotiation.
Contracting Office Address:
1279 West Alameda Parkway
Post Office Box 25287
Denver, Colorado 80225-0287
Place of Performance:
Sandy Hook Unit, Monmouth County, New Jersey
United States
Initial Point of Contact: Please contact John Warren at 732-872-5908 or e-mail us.
Last updated: June 10, 2019