News Release
National Park Service Signs Lease for Historic Riis Beach Bathhouse, Partners Unveil $50 Mill Restoration Plans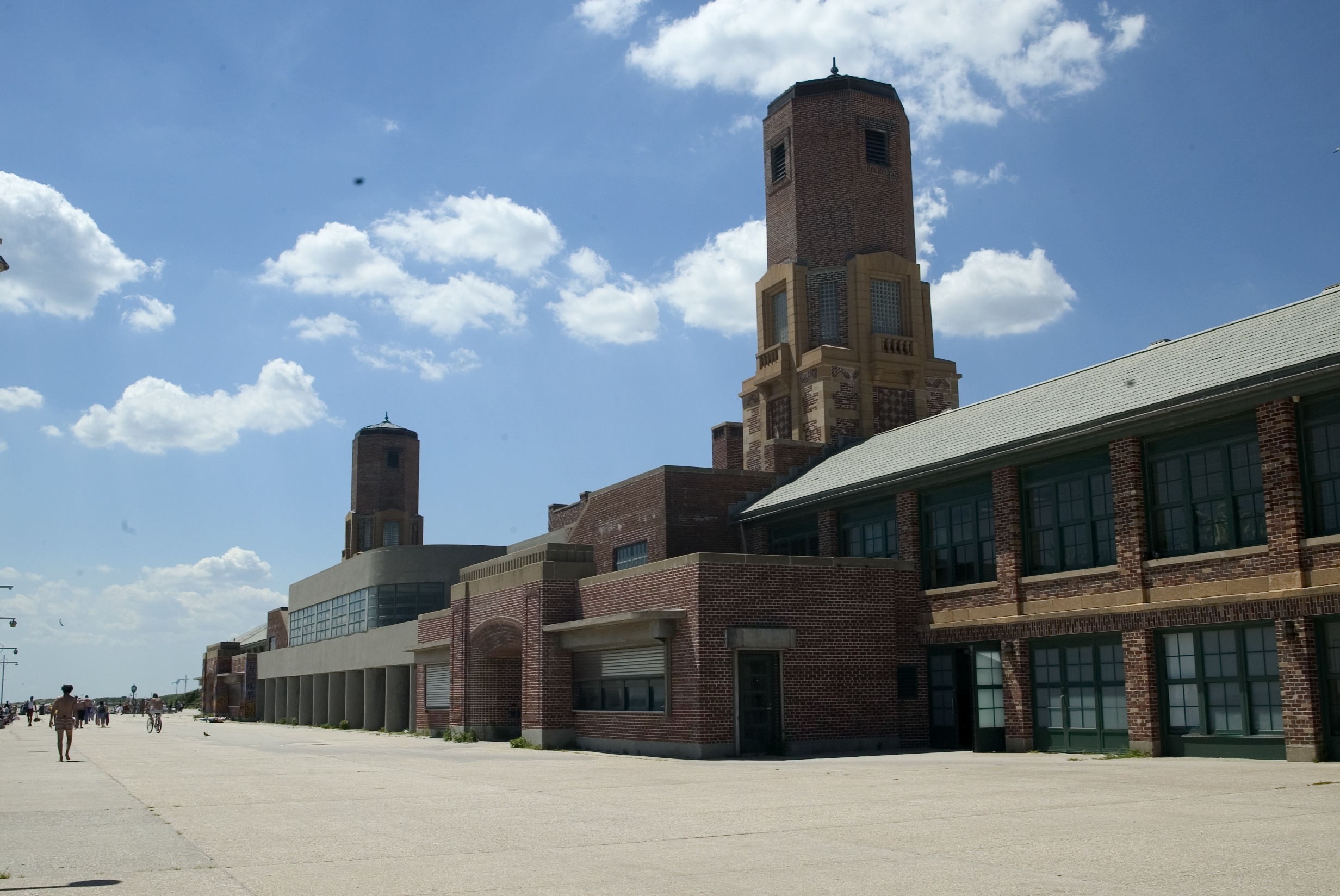 News Release Date:
October 21, 2022
Contact: Daphne Yun, (917) 282-9393
[[Rockaway, NY]—One of Queens' most beloved Art Deco gems, the historic bathhouse in Jacob Riis Park, is coming back to life after nearly half a century. Under the terms of a new 60-year lease from the National Park Service, signed today, Bathhouse Lodge LLC, doing business as CBSK Developers and Brooklyn Bazaar, will preserve and restore the 1932 bathhouse. The revitalized landmark will feature restaurants, a bar, pool, event spaces and 28 hotel rooms.

The New York-based team behind the project will begin work on the $50 million restoration this fall, with a phased opening expected to start in 2023.

"The Bathhouse is emblematic of over half a century of the quintessential NYC seaside experience," said Jen Nersesian, the National Park Service superintendent of Gateway National Recreation Area. "Its restoration will connect beachgoers with this heritage and provide a new suite of visitor opportunities for generations to come." 

"As a New Yorker, the opportunity to revitalize this iconic city landmark is a once in a lifetime opportunity," said CBSK's Scott Shnay. "This project will help return the bathhouse to its former glory and add modern restaurants and attractions to the historic Jacob Riis waterfront. We are grateful for our partnership with the National Park Service and look forward to work getting underway." 

This extensive overhaul will breathe new life into the historic bathhouse, starting with a full restoration of the building's facade to its original glory. The project will bring back many of the original features first included in the bathhouse, which was once home to two restaurants, a cafeteria, and concession stands. The restoration will add a range of similar amenities for the public, including a rooftop restaurant, ground floor eateries, a casual beachfront bar, and retailers stocking beach supplies like sunblock and towels. The project will also convert spaces on the second floor into 28 hotel rooms, as well as a catering hall and event spaces. Outside in the building's courtyard there will be a new pool and lounge areas. Plans for the project underwent careful review by New York's State Historic Preservation Office (SHPO) and will preserve the building's famed Byzantine, Moorish and Moderne influences, while adding new modern uses. 

Jacob Riis Park, part of Gateway National Recreation Area, has been a popular summertime destination for New Yorkers for decades – and the bathhouse is the centerpiece. The bathhouse sustained extensive damage from Hurricane Sandy, including the destruction of its doors and window coverings, and knocking down the courtyard wall. Gateway invested over $4 million for a post-Sandy rehabilitation that includes elements of flow-through design to make this historic property more resilient to future storms surges and expected sea-level rise. 

Bathhouse Lodge LLC, doing business as CBSK Developers and Brooklyn Bazaar, will use best practices for coastal resiliency and sustainability, including the implementation of deployable flood protection technology as part of a careful flood proofing plan and the creation of a Zero Waste plan during construction. All development plans have also undergone extensive review by the NPS and National Oceanic and Atmospheric Administration's Office for Coastal Management to ensure they do not interfere with the existing wildlife or the local habitat.  

NPS announced a competitive Request for Proposals in late 2017 and signed a letter of intent with Brooklyn Bazaar in 2018. Leasing is among the best options Gateway has to preserve and protect historic buildings like the Bathhouse. By leveraging private investment in service of park goals, public dollars can go further and accomplish more.

Father and son Abe and Scott Shnay and partner Charles Blaichman lead CBSK, a New York City real estate development and management firm. CBSK has successfully completed numerous complex ground-up developments, adaptive reuse projects and repositionings in its 50-year history. Some of their leading hospitality projects include Ruschmeyers, Pod Brooklyn, the Hotel Kinsley and INNESS. Recent residential and mixed-use projects include 10 Bond Street, 40 Gansevoort Street, and 363 Lafayette Street.   

Architecture and planning firm Beyer Blinder Belle is known for its expertise in restoring, revitalizing, and reusing historic buildings and sites, including TWA Hotel, Empire State Building, Grand Central Terminal, Ellis Island and the Beacon Theater, among many others.  

About Gateway National Recreation Area Gateway is a large diverse urban park with 27,000 acres spanning Sandy Hook in N.J. and Jamaica Bay and Staten Island in N.Y. It offers green spaces, beaches, wildlife, and outdoor recreation, all alongside historic structures and cultural landscapes. It is the 4th most visited National Park Service unit with more than 9.2 million annual visitors. Gateway National Recreation Area was created by an act of Congress on October 27, 1972, with the dream of bringing a National Park service experience to the New York metropolitan area. This year we're celebrating our past and looking to the future of this amazing urban park.  For more information about Gateway, visit www.nps.gov/gate.  
Last updated: October 21, 2022