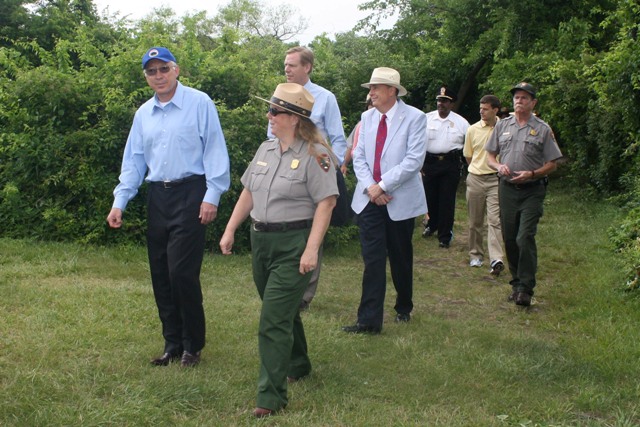 News Release Date:
June 13, 2011
Contact: Hugh Vickery, Department of the Interior, 202-208-6416
Contact: Raina T. Williams, Public Affairs Officer, Gateway, 718-354-4607
NEW YORK -- Secretary of the Interior Ken Salazar proposed a series of first steps to link parks and other open spaces in the New York City metropolitan area to enable local communities, and especially young people, to connect with the natural beauty and history of the region.
The proposals under President Obama's America's Great Outdoors initiative include completion of the extensive New York Harbor trail and greenway network in partnership with New York City and New Jersey agencies and local communities.
Salazar also proposed establishing a Center for Urban Ecology to coordinate and seek private funding for the efforts of the 17 agencies and non-governmental partners on the Jamaica Bay Task Force.
"These are concrete steps we are planning to take under the America's Great Outdoors initiative to create a model for a new generation of Great Urban Parks in America," Salazar said. "We want every citizen of the New York area -- particularly the children -- to have easy and accessible access to outdoor recreation and the cultural and historical heritage that makes this part of the country unique."
Salazar spoke at Floyd Bennett Field, where the National Park Service is developing the largest urban park campground in America. Over a two-year period beginning in 2011, the campground will expand from 5 to 90 sites, including both traditional campsites and RV sites.
The campground may ultimately contain 600 sites. Staff and volunteers will engage in special outreach to underserved communities around the area, introducing families to camping skills, providing equipment, and offering campfire programs, kayaking and swimming opportunities.
Salazar said the proposed Center for Urban Ecology would potentially be located at Fort Tilden. It would serve as a hub for resident and visiting scientists and feature laboratories, a library, lodging, office space, vessels and docking areas.
The completion of the missing links to finish the extensive New York Harbor trail and greenway network will include the development of a one-mile section through Jacob Riis Park that connects the Rockaway peninsula with the Jamaica Bay Greenway.
In addition, Salazar proposed to complete the transition, already underway, to the use of new and social media platforms to reach new, younger audiences with the stories of the region and America's historic and cultural heritage. For example, historic sites overseen by the National Park Service will be featured in six free smart-phone applications and multiple video podcasts from the service's official iTunes store.
The proposals are included in The National Parks of New York Harbor: Creating a Great Urban Park. (This report is currently in draft form.)
--NPS--