Camping at Gateway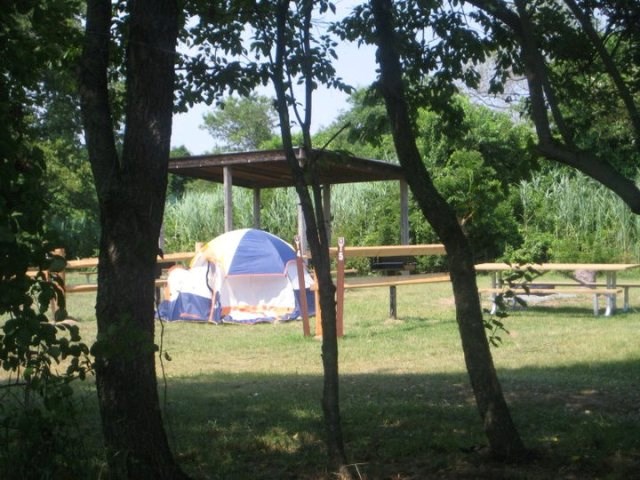 Camping details
Rates:
$30 a night; $15 a night with the Senior or Access Pass
$210 a week; $105 a week with the Senior or Access Pass
Length of Stay: No day use, you must camp overnight. 14 nights is the maximum number of nights permitted.
Size limits: Up to four people may camp at a single site. Larger families and groups will need to reserve multiple camp sites. Sites are large enough for one large tent or two small tents. Capacity may be reduced for safety considerations.
What to bring: Your own tents and sleeping bags. A pad underneath your sleeping bag may cushion you better for a better night's sleep. Bring sunscreen and insect repellant as well.
What NOT to bring: Alcohol, pets, and charcoal grills are NOT allowed at tent camping sites. Glass containers are not allowed anywhere in the park.
Recreational Vehicles (RVs) at Floyd Bennett Field only: There are presently 12 RV camp sites. Water, sewer and electrical hookups are NOT available. Tents are not permitted in RV sites. Neither Fort Wadsworth nor Sandy Hook can accommodate RVs.
Access to Public Transportation:
Floyd Bennett Field: The Q35 bus takes you north to the train station for the 2 and 5 trains at Flatbush and Nostrand Avenues, a ride that takes about 15 minutes. From there, riders can transfer to other subways to get to other boroughs, such as Manhattan. The station is near a residential area. Street parking is available; read the signs for meter hours. Campers who return late must present their camping reservation confirmation from www.recreation.gov upon reentering Floyd Bennett Field.
Fort Wadsworth: The S51 bus will leave you near the main entrance (camp office, 220 New York Avenue), while the S53 bus will leave you by the rear entrance (rear entrance closes at 7:00 pm).
Last updated: November 9, 2021