Have a Blast at Fort Hancock Days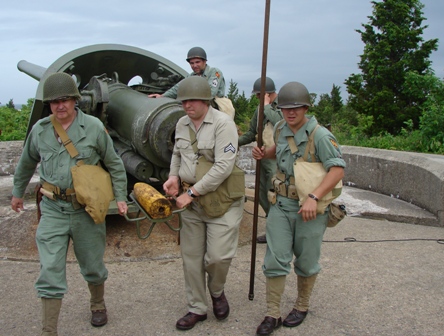 News Release Date:
October 7, 2010
Contact: John Harlan Warren, 718-354-4608
The National Park Service will hold its annual celebration of Fort Hancock Days Friday, October 22 through Sunday, October 24. Fort Hancock Days commemorates the establishment of Fort Hancock as an Army base in 1895. The historic fort is now a part of Gateway National Recreation Area's Sandy Hook Unit.
On Friday, October 22 from 6 to 9 PM, volunteers from the Army Ground Forces Association (AGFA) will conduct a lantern tour of the Fort, beginning at Fort Hancock Museum and ending at Battery Gunnison. AGFA volunteers, who wear replica World War II-era uniforms, will emphasize the fort's war years. During the war, Fort Hancock's population swelled from approximately 800 to more than 12,000 soldiers and family members.
On Saturday and Sunday, October 23-24, visitors can help Celebrate Fort Hancock with tours through fort buildings rarely open to the public. Tours take place from 12 noon to 4 PM. Wearing the uniforms of artillery soldiers, AGFA volunteers will demonstrate how Battery Gunnison's six-inch gun (actually about 12 feet long) was loaded. An original World War II ambulance will be on display, complete with period medical equipment and staffed by an AGFA volunteer Army nurse. A historian will be on hand at History House to answer visitor questions about the role Fort Hancock played in protecting New York Harbor from German U-boats during the war.
Fort Hancock trained soldiers and protected the area from the time of the Spanish-American War through the nuclear age. During the Cold War, radar and Nike nuclear missiles were added to the fort's defense system. The Army Fort was deactivated in 1974, when the Sandy Hook peninsula became one of the units of Gateway National Recreation Area as a National Park Service site. The public is welcome to visit Sandy Hook's beaches, trails and military history sites.
Last updated: March 5, 2019