Things to Do-Sandy Hook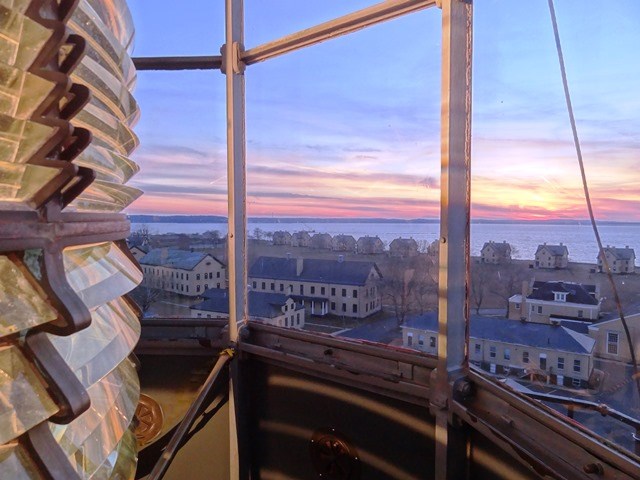 The Sandy Hook Unit is 4,688 acres of land, bay, and ocean waters in Monmouth County, N.J.

The Unit encompasses Fort Hancock, Sandy Hook Proving Ground National Historic Landmark District and natural areas and shorelines adjacent to the Atlantic Ocean and Sandy Hook Bay. The Sandy Hook Lighthouse is the oldest continuously operating lighthouse in the U.S. - since 1764.
Looking for fun this week?
Gateway's calendar includes nature walks, fitness activities, and historic tours and programs for the Sandy Hook unit.
Visitor Center number: (732) 872-5900.
Listed are some of the many activities that are available at Sandy Hook.
Beach Recreation
Lifeguards are on duty from 10 a.m. to 6 p.m. from Memorial Day weekend through Labor Day at ocean side beaches. Please note that only umbrellas with a diameter of 8' that require only one central station to support shade are allowed on the beach. Small tents designed for infants/todllers are allowed as long as the infant/toddler is present.
Please swim only on guarded beaches and only when lifeguards are on duty. When wading, be aware of sudden drop-offs. If you can't swim, don't go in.
Rip currents are powerful currents flowing away from the shore. Before you go to the beach, learn what you need to do to Break the Grip of the Rip.
Biking
For a great way to see Sandy Hook, the seven-mile long multi-use pathway (MUP) starts at the park entrance and loops around Fort Hancock. It is shared by walkers, bicyclists and in-line skaters. Bring your own bicycle or you can rent a bike during your visit. Bike rentals are available during peaks season as weather permits. Always call ahead for the best service.
The MUP is for everyone, so please use it with courtesy. Whether you walk, bike or rollerblade, stay on your side of the yellow line. Keep an ear out for people who wish to pass. Keep pets on a short enough leash that they stay with you on your side of the trail.
Birding
Sandy Hook is a prime spot for birding. Try Plum Island, the Spermaceti Cove boardwalk, the Horseshoe Cove salt marsh, North Pond or the fields at the main post area. Birding is not permitted in the campground for the duration of the camping season. In summertime you can join a park ranger on Saturday and Sunday mornings at the Lot M Observation Deck from 9:30 a.m. to 11:30 a.m. to learn more about birds in the area. A scope will be set up to view raptors, marsh birds, and migrating song birds.
Boating
Non-motorized car top boats can be launched from Beach Area C and Horseshoe Cove. Windsurfing and kite-boarding is best on the bay across from Beach Area C. Horseshoe Cove is popular with recreational boaters. Landing on the beach with a motorized boat is prohibited.
Camping
Overnight tent camping is available at Sandy Hook. Reservations are available at www.recreation.gov under "Camp Gateway".
Canoe Cruises
This ranger led water program will resume in the summer of 2019. Rangers lead a two-mile paddle for visitors age 14 and older to explore Sandy Hook from the ideal vantage point of the water. This 2.5-hour tour is of the bayside waters of Sandy Hook and Skeleton Hill Island. Reservations are necessary. Please reserve by visiting www.recreation.gov or calling (877) 444-6777.
Hiking
Trails begin at the Spermaceti Cove Lifesaving Station and at Area M near Nine Gun Battery. Walking along the ocean beaches is permitted. Some areas are closed during the spring and summer due to shorebird nesting.
Kayaking
Visitors can launch kayaks from the bayside of Sandy Hook, except in Spermacetti Cove, the ferry dock, or anywhere a rocky sea wallk exists.
Kayaks and standup paddle boards are also available for rent at Lot C. Find out more by visiting Sandy Hook Kayaks.
Picnicking
The North Beach Observation Deck has tables and a view of the New York Harbor. Guardian Park has picnic tables, shelters and grills. Grilling is only permitted in Guardian Park.
Tours
Visit the Sandy Hook Lighthouse abd Lighthouse Keepers Quarters/Visitor Center or go on a tour. Click here for more information.
Additional Information
Pets
Pets are not permitted on ocean side beaches from March 15 to September 15. Pets are allowed on bay side beaches year-round, but always must be leashed.
Last updated: January 14, 2020