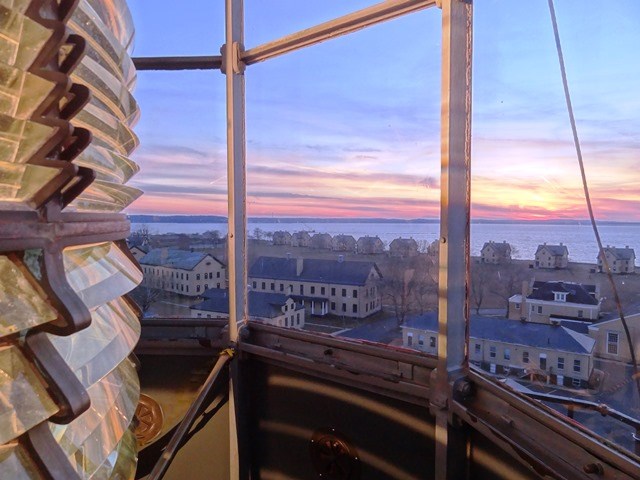 Looking for fun this week?
History
Gateway's calendar includes nature walks and history tours and programs for Sandy Hook. Take a stroll around Fort Hancock Historic Post. The Sandy Hook Lighthouse, Keepers' Quarters and Barn are open seven days a week to tell the story of lighthouses and the men and women who maintained these life-saving sentinels. Lighthouse tours are available on a first-come, first-serve basis.
Want to reserve a group tour for the Sandy Hook Lighthouse? Please be advised: reservations must be made prior to your group's visit; reservations must be made three weeks in advance of the requested tour date; maximum group size is 35 participants. Email us.
Beach Recreation
Lifeguards are on duty from 10 am to 6 pm from Memorial Day weekend through Labor Day at ocean side beaches. Please swim only at guarded beaches and only when lifeguards are on duty. When wading, be aware of sudden drop-offs. If you can't swim, don't go in.
Rip currents are powerful currents of water flowing away from shore. Before you go to the beach, learn what you need to do to Break the Grip of the Rip!®
Fishing
Surf fishing is permitted at all beaches, except:
at oceanside beaches when lifeguards are on duty, and;
when sections of the beach are closed to protect nesting shore birds (typically March to September).
When areas of the beach are closed due to safety concerns.
Salt water fishing in New Jersey requires a permit from the state of New Jersey. Registration is free. The New Jersey Saltwater Recreational Registry Program is part of an improved data program to help protect long-term sustainability of recreational fishing.
Annual passes for nighttime fishing can be purchased from the park. Unless otherwise stated below, payment is permitted by cash, credit, check or money order. Your Social Security number is required on all checks. Due to changes in staffing over the seasons, the times and places to buy annual fishing passes vary as well. Annual Fishing Passes can now be purchased online and picked up after 7 days or mailed within 14 days. For more information, please e-mail us.
Fish Smart, Eat Smart is a guide for eating fish caught in New Jersey coastal waters from the New Jersey State Department of Environmental Protection, Division of Fish and Wildlife. Please read this before eating what you catch.
Biking
For a great way to see Sandy Hook, the seven-mile long Multi-Use Pathway (MUP) starts at the park entrance and loops around Fort Hancock. It is shared by walkers, bicyclists and in-line skaters. Bring your own bicycle or you can rent a bike during your visit. Bike Rentals may be available during the peak season as weather permits. Always call ahead the for the best service.
The MUP is for everyone, so please use it with courtesy. Whether you walk, bike or rollerblade, stay on your side of the yellow line. Keep an ear out for people who wish to pass. Keep animals on a short enough leash to keep your pet on your side of the trail.
Kayaking
Kayak and Standup Paddleboard rentals are available at Beach C Bayside on Spermaceti Cove. Rentals, lessons and group/family tours are offered. Also, kayaks and paddleboards can be rented by the day or week.

Rentals:
1 hour single, double and three person kayaks $20-40
1 hour Standup Paddleboard rentals $30
1 hour two person peddleboat rental $40
(Dogs paddle free! We have life vests for all sizes)
Children must be over 12+ to paddle without an adult.

Private paddle board tours and group kayak/stand up paddleboard outings are private and by appointment only.

Visit the website sandyhookkayaks.com to make a reservation.

Free shuttle available to pick up visitors anywhere in the park and returns them after paddling. Please call 732-708-4004 for shuttle service.
Hiking
Trails begin at the Spermaceti Cove Lifesaving Station (closed due to damage from Hurricane Sandy) and at Area M near Nine Gun Battery. Walking ocean beaches is permitted but in spring and summer some areas are closed due to the shorebird nesting season.
Birding
Sandy Hook is a prime spot for birding. Try Plum Island, the Spermaceti Cove boardwalk, the Horseshoe Cove salt marsh, North Pond or the fields at Fort Hancock. Birding is not permitted in the campground for the duration of the camping season. In summertime on Saturday and Sunday mornings from 9:30 am to 11:30 am, join a park ranger at the Lot M Observation Deck (park at lot after K Lot near Nine Gun Battery) to learn more about birds in the area. A scope will be set up to view raptors, marsh birds, and migrating songbirds.
Camping
Overnight tent camping is available at Sandy Hook. Click here to read more on Camp Gateway. Reservations are available at www.recreation.gov under "Camp Gateway."
Boating
Non-motorized car top boats can be launched from Beach Area C and Horseshoe Cove. Windsurfing and kite-boarding is best on the bay across from Beach Area C. Horseshoe Cove is popular with recreational boaters. Landing on the beach with a motorized boat is prohibited.
Canoe Cruises
Starting Monday, June 18, 2018 and every weekday (Monday to Friday) through Friday, August 31, 2018 take a two-mile paddle (ages 14 & up) to explore Sandy Hook Bay from an ideal vantage point - the water iteslf. Rangers guide you on a two and a half hour tour of the bayside waters and Skeleton Hill Island. Go to www.recreation.gov or call 1-877-444-6777 this coming summer to reserve for this program.
Picnics
The North Beach Observation Deck has tables and a view of New York Harbor. Guardian Park has picnic tables, shelters and grills. Grilling is only permitted at Guardian Park in Fort Hancock.