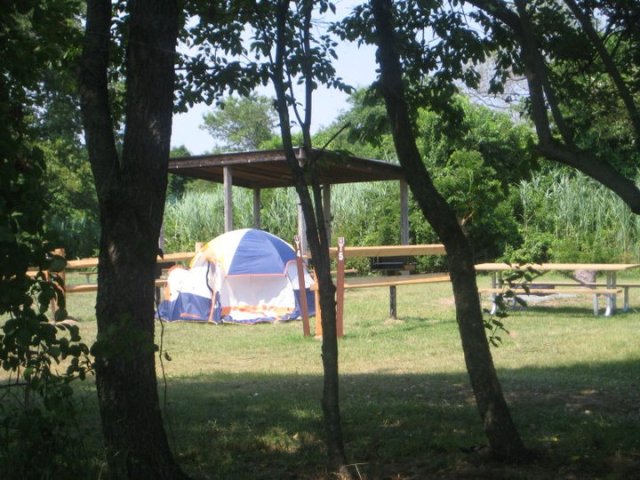 News Release Date:
May 12, 2015
Contact: Daphne Yun, 718-354-4602
Did you know that you could camp in New York City? There is camping available at all three units of Gateway;Jamaica Bay, Staten Island and Sandy Hook. Year round camping is available in Jamaica Bay, while the other two sites are open between late spring and early fall. To find out more about our programs visitGateway's website.
The camping fee at Gateway National Recreation Area has been set at $30 per night, beginning with the 2015 season. The new fee structure follows an extensive public process that included outreach via social media, an open house at Sandy Hook and an open house at Jamaica Bay, and a 60-day comment period.
"We are committed to keeping the park affordable but also want to provide visitors with the best possible experience," said Jen Nersesian, Superintendent of Gateway NRA. "The camping fees will help improve our visitor facilities and services with the addition of showers and new programs."
This is the first increase in camping fees since the park-wide camping program began in 2012. The fee for 2015 is $10 more than 2014. These fees will be used by the park to expand the campground facilities at Floyd Bennett Field, and to add showers at both Floyd Bennett Field and Sandy Hook.                                               
About Gateway National Recreation Area
Established in 1972, Gateway National Recreation Area offers more than 26,000 acres of marshes, wildlife sanctuaries and recreational athletic facilities, miles of sandy beaches;indoor and outdoor classrooms;picnicking and camping areas, as well as historic structures and military installations, airfields, a lighthouse, and adjacent waters around New York harbor. The park offers urban residents in two states a wide range of recreational opportunities year round. Gateway is one of the ten most visited national parks in the country. For information about Gateway's upcoming public programs, see the park's Web site athttps://www.nps.gov/gate/index.htm. To join the conversation about Gateway, like us on our Facebook pagewww.facebook.com/Gatewaynps.