Fort Hancock Advisory Committee to meet Jan. 23-24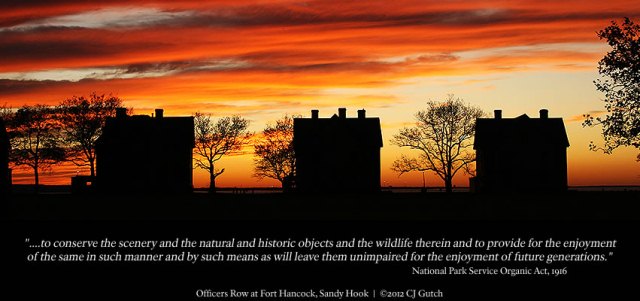 News Release Date:
January 8, 2013
Contact: John Harlan Warren, 718-354-4608
The Gateway National Recreation Area Fort Hancock 21st Century Advisory Committee will hold its first meeting January 23-24, 2013 at the Ocean Place Resort and Spa in Long Branch, N.J. (not at Monmouth University, as stated in the Federal Register). The Committee was established to provide recommendations for the historic reuse of 38 historic buildings in the Fort Hancock Historic Landmark District within Gateway's Sandy Hook Unit.
"Fort Hancock is a treasure waiting to be recast for a new future," said Superintendent Linda Canzanelli. "Unfortunately, tax dollars will never be enough to restore and maintain these buildings, nor is that the best answer for these historic structures. Some of these buildings have survived for over a century including, most recently, withstanding Hurricane Sandy. They are too important and too valuable for the community to lose."
The Committee's 20 members represent a wide array of local and national leaders in government, business, recreation and real estate as well as experts in natural, scientific and education resources. Members were appointed by Interior Secretary Ken Salazar last September under the Federal Advisory Committee Act of 1972 (FACA). FACA committees provide advice to the Executive Branch of government, which includes the National Park Service. Members of the committee will meet four to six times a year over a two or three year term and serve without compensation. The Committee will strive to operate by consensus. For more information about FACA, see "FACA 101" on the General Services Administration website.
Relevant documents, background material, meeting minutes, and other useful information used by the Committee will be shared with the public at http://forthancock21stcentury.org.This website currently includes the signed charter of the Committee, an agenda for the meeting, links to documents and several photos of buildings at Fort Hancock.
The two-day meeting will be open to the public except for a Wednesday morning visit to Sandy Hook, which remains closed to the public after Hurricane Sandy. The agenda includes time to receive public comments (at 4 P.M. Wednesday and 2 P.M. Thursday). Those who wish to make public comments to the Committee may sign up the same day and may speak for up to five minutes. Written comments may be submitted to the Committee as well.
About Gateway National Recreation Area
Established in 1972, Gateway National Recreation Area offers more than 26,000 acres of marshes, wildlife sanctuaries and recreational athletic facilities, miles of sandy beaches; indoor and outdoor classrooms; picnicking and camping areas, as well as historic structures and military installations, airfields, a lighthouse, and adjacent waters around New York harbor. The park offers urban residents in two states a wide range of recreational opportunities year round. With more than eight million visitors a year, it is one of the top five most visited national parks in the country. For information about Gateway's upcoming public programs, see the park's Web site at https://www.nps.gov/gate/index.htm
--NPS--
Last updated: February 26, 2015