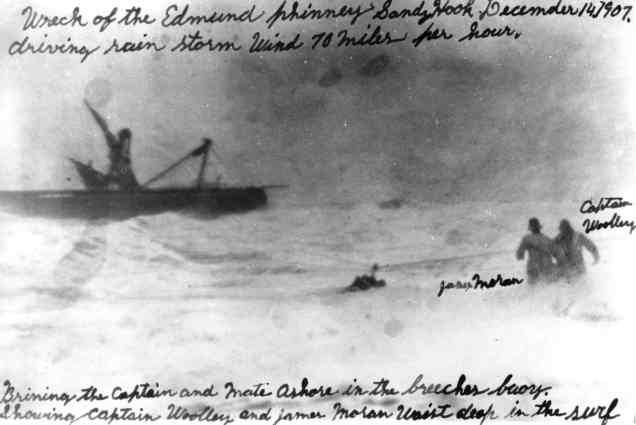 Life-Saving stations at Sandy Hook
Travel by sea, especially in the early years of the republic, was often dangerous. The coast of New Jersey saw hundreds of shipwrecks. Small life-saving stations were built on the East Coast starting in 1849 but were staffed by volunteers. In 1878, Congress established an official U.S. Life-Saving Service (USLSS) within the Department of the Treasury. Paid six-member crews were rated numerically by their experience and capability to staff the larger stations built in the 1870s.
Out of 40 stations in New Jersey, the Sandy Hook Life-Saving Station (near the tip) was Station No. 1; Spermaceti Cove was Station No. 2. Each station's rescue equipment included a surfboat mounted on a wagon, a small line-throwing mortar, and a small enclosed metal lifeboat called a "lifecar." The lifecar held up to six passengers and was used to haul them back to the beach using rope lines stretched from shore to shipwreck. Crews conducted daily tower watches, nightly beach patrols and participated in frequent drills to keep their skills sharp.