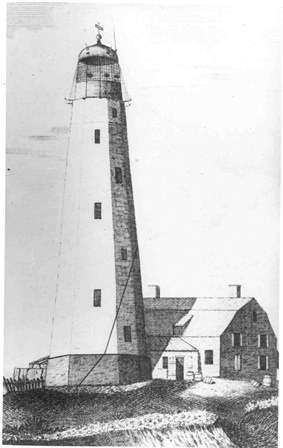 A "stinking Ediface" that saved lives
The Sandy Hook Lighthouse has been lighting the way for sea travelers for 250 years. Since 1857, the third-order Fresnel (fray-NELL) lens and the electric light within is now maintained by the U.S. Coast Guard. But for more than a century, wicks had to be trimmed and large containers of whale oil or kerosene needed to be carried up 108 steps. That required a full-time keeper and some assistants.
Five lighthouse keepers quarters have been constructed here, the last in 1883. The first keeper lived in a "dwelling house" made of "timber and boards." He could keep two cows on the premises, but could not use the tower as a "public-house for selling strong liquors." Ambrose Serle, secretary to British Admiral Lord Howe during the American Revolution, described Sandy Hook as a "dismal barren spot" and the Lighthouse as "a stinking Edifice, by means of the [whale] oil and the Provincials [Loyalist soldiers, colonists allied with the British] stationed in it."
It was no better in 1870, when a New York Times reporter visited: "For all the disagreeable places that a man can be stationed at, to wait for anything, (except grim death,) Sandy Hook is the meanest... place on the footstool... more mosquitoes and flies have been bred here than in any place of the same size on the American Continent..."