The Sandy Hook Proving Ground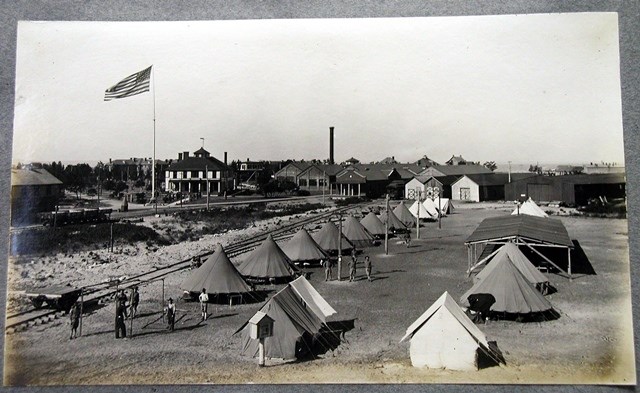 A place to test weapons
More than two decades before the "Fortifications at Sandy Hook" was renamed "Fort Hancock," the U.S. Ordnance Department tested new and experimental weapons here.
The "proving ground," a term for where weapons might be tested, was established in 1874. Less than ten years earlier, the Civil War had introduced several new innovations in weaponry. Rifled cannon fired pointed-nosed projectiles farther and faster than cannonballs. Iron clad warships mounted guns that could easily destroy the walls of a traditional fort. The Army needed a place to test its own new weapons.
Sandy Hook held many attractive features for the Army. The Federal Government already owned the land, which provided flat and open areas for testing. Sandy Hook was distant enough to be far from towns but close enough to large cities and transportation by water.
Several red brick buildings, including structures used as maintenance buildings and an Officers Club in later years, were built as part of the Proving Ground. When Fort Hancock was named in 1895 and the Coast Artillery assumed control of Sandy Hook from the Corps of Engineers and the Ordnance Corps, it shared the peninsula with the Proving Ground. View images of the Proving Ground and its buildings here.
Proof Battery, located at the northeastern end of Sandy Hook, had a 3,000 yard range extending southward. For longer range tests, guns were fired out into the ocean. Tests were not only completed on new guns but also on gun powder, artillery shells, fuses and primers. Proof Battery was relocated in 1900 because of Fort Hancock's need for the location to build a gun battery. The new Proof Battery was built southeast of its old location.
In 1889, a narrow gauge railroad was constructed to bring equipment and guns from the docks to the proof battery. In 1893, a standard gauge railroad was completed to the mainland and connected with commercial railroad lines.
In 1903, the Sandy Hook Proving Ground became a permanent installation. It continued to test weapons through World War I. However, as guns could hit targets further and further away, Sandy Hook lacked enough space to test such long range guns. In 1919, the facility closed and the function was moved to Aberdeen, Maryland.
For safety's sake, do not touch possible explosives
So many guns were fired at Sandy Hook Proving Ground that unexploded ordnances (UXOs) are still found from time to time, even on public beaches. Some of these explosives are still "live." If you see something old and metallic sticking up, DO NOT TOUCH IT or try to move it. Instead, call Dispatch at 732-872-5900 IMMEDIATELY.
Also, please stay out of closed areas. They are closed for a reason and UXOs are one of those reasons!
For a site bulletin on the history of the Sandy Hook Proving Ground, click here.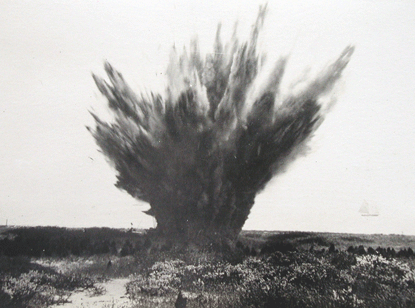 Dig deeper
The Sandy Hook Proving Ground is listed on the National Register of Historic Places as a part of the Fort Hancock and Sandy Hook Proving Ground National Historic Landmark. View the Fort Hancock and Sandy Hook Proving Ground Historic District Nomination Form.
View the Historic Resource Study, Sandy Hook Proving Ground 1874-1919.
View the Officers Club Building 114, Historic Structures Report.
Last updated: May 16, 2016