Anaktuvuk Pass, Alaska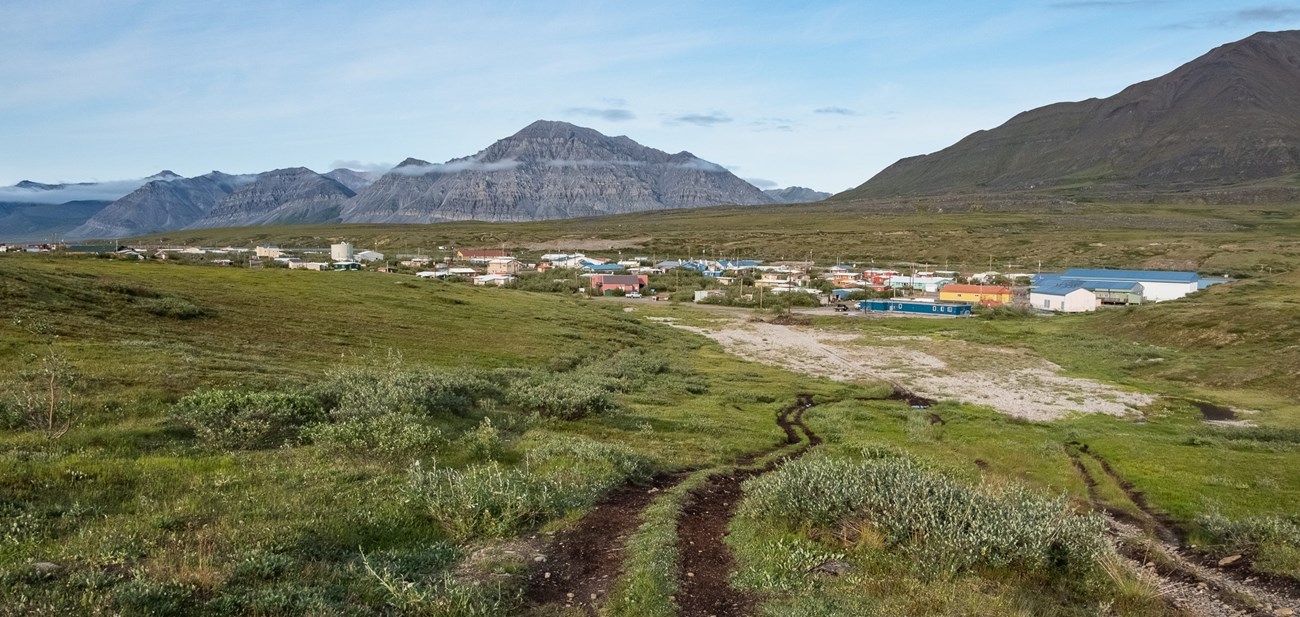 Situated inside the park's boundaries, at the top of a wide 2,100 foot mountain pass, the village of Anaktuvuk Pass is a great place to start your exploration of Gates of the Arctic.

Anaktuvuk Pass is accessible by commercial air service from Fairbanks and hosts a ranger station staffed by national park rangers during the summer season. A small village off of the road system, Anaktuvuk Pass does have limited services available to visitors (see below).

Most of the residents of Anaktuvuk Pass are inland Iñupiat, or Nunamiut people, and many still rely on subsistence activities like caribou hunting to supplement their way of life. If you visit or travel through the community and surrounding Native corporation lands, please be respectful of the local residents and their daily subsistence activities. More information on this is detailed below.

The Nunamiut have a rich history living in the Brooks Range that dates back many generations. Learn more about their traditional culture in the history of Anaktuvuk Pass, the Nunamiut people of Anaktuvuk Pass, and at the Simon Paneak Memorial Museum located within the village.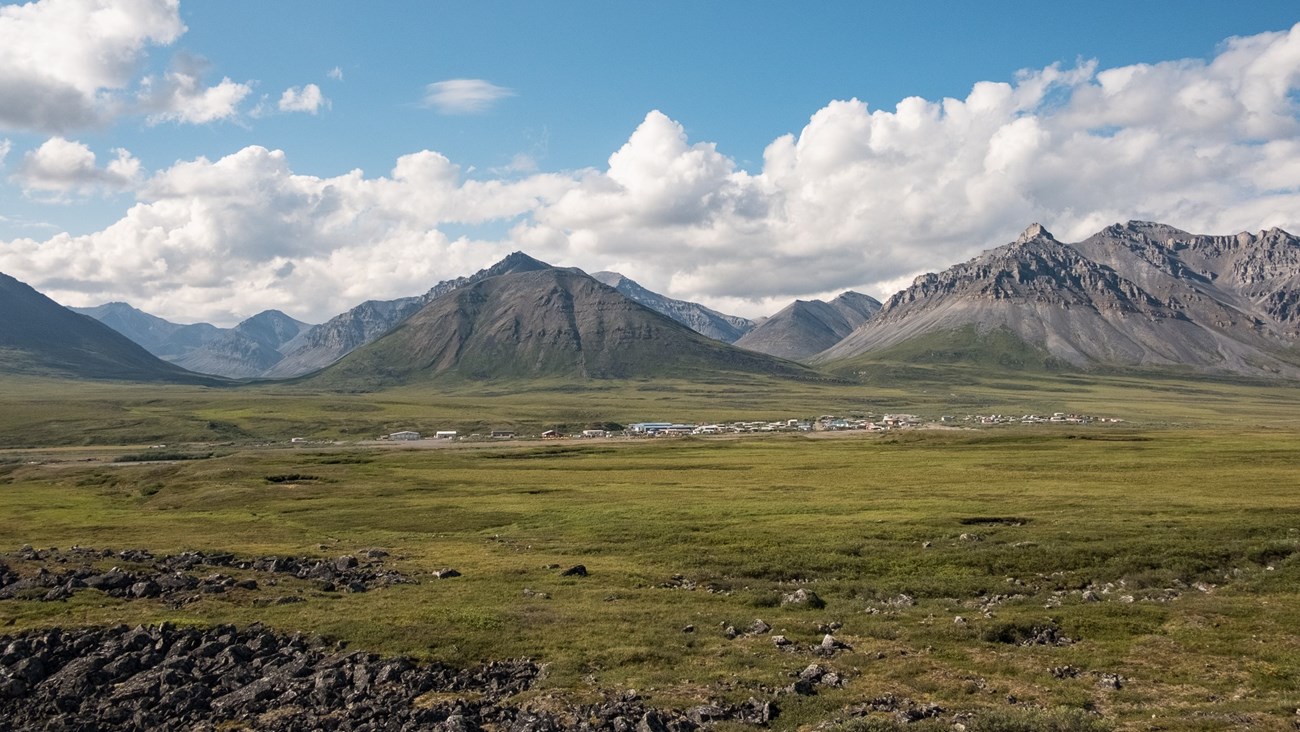 Land Status in the Anaktuvuk Pass Area for Recreational Park Visitors
Camping in Anaktuvuk Pass
The Anaktuvuk Pass city council has designated the area around the access road on the east side of the airstrip for visitor camping. Practice Leave No Trace and do not leave any solid human waste (or other litter) around your camp or within the village. All food and scented items should be contained in certified bear-resistant food containers, as bears are present in the area.
Backcountry Access and Travel
Backcountry visitors may travel across and camp as needed on Corp lands while en route to or from NPS (park) lands. An easement with the Nunamiut Corporation and Arctic Slope Regional Corporation (ASRC) for lands inside the park (collectively referred to here as Corp lands) allows backcountry visitors transit across Corp lands and to camp as necessary as long as they camp no less than one-half mile from any active subsistence camp. Visitors must not interfere with subsistence activities in any manner, and they may stay only one night at each camp except in case of emergency. No additional permission is needed from the Corp to use this easement.
A Nunamiut Corporation easement allows for the subsistence use of 6- and 8-wheeled ATVs on federal non-Wilderness lands in the area around Anaktuvuk Pass. Local subsistence users on ATVs may be encountered on those park lands, as well as Corp lands. The benefit to backcountry visitors is the formation of ATV trails around Anaktuvuk Pass which makes travel across the commonly wet, spongy tundra significantly easier and faster in some areas.
Further Information on Nunamiut Corporation Lands
Visitors wanting to spend all their time recreating on Corp lands must get permission from the Nunamiut Corporation. As mentioned above, if you are only traveling across and camping on Corp lands in order to reach park lands, you do not require permission from Nunamiut Corp.
On Corp lands outside the park boundary and on Doyon Corporation lands within (or out of) the park, visitors are restricted to linear '17b' 'trail' easements, as the Anaktuvuk Pass easement does not apply. This is the typical case for easements to public lands across Native Corporation land in the state of Alaska.
Traveling the Killik River north of the park boundary is another unique situation, however. Under the terms of a 1983 easement, when traveling on ASRC lands north of the park, floaters can camp and recreate only within 100 feet of the ordinary high water mark along the river, and have access to take-outs at Imniaknikpak and Udrivik Lakes, as well as river take-outs on the Killik for a mile before the confluence with the Colville River.
Private Lands
On the map below and in other areas within the park, there are parcels of private land, of which the access easement does not apply. There is no allowed permission to travel across or camp on these parcels of private property. Contact the NPS to ensure your travels within the park are in compliance with the regulations.

The following map is not a legal depiction of land status. It is intended to display the general location of private and Corporation lands for general route guidance for recreational park visitors.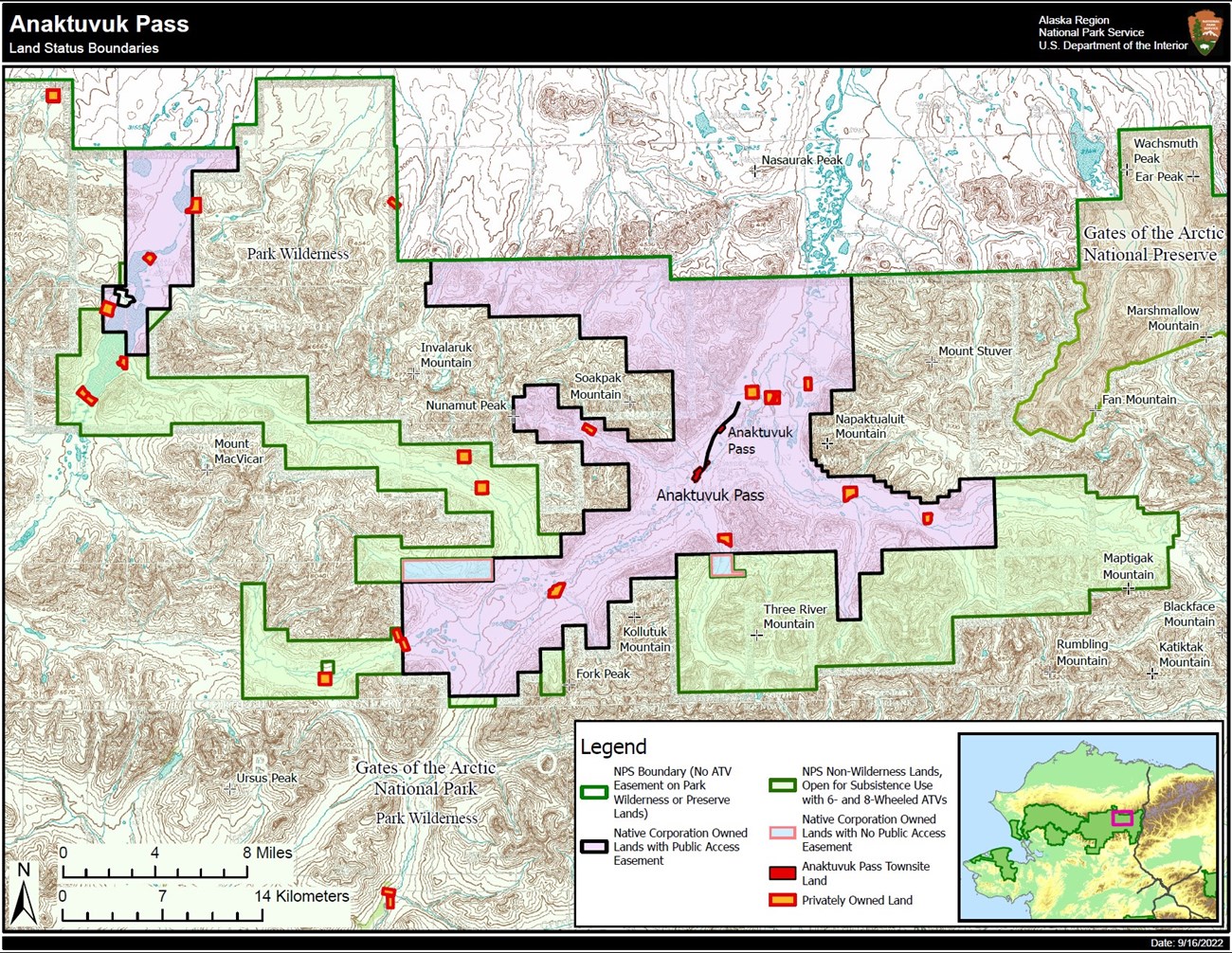 Information and Services
Anaktuvuk Pass Ranger Station (NPS) - (907-661-3520) Staffed each year between April to the end of September. Hours are typically Mon-Fri, 9am-5pm. The station may not be open on weekends or if staff is in the park (an often and long-duration occurrence). A Passport to Your National Parks Cancellation Stamp is available inside the ranger station.
Groceries: Nunamiut Corporation Store (907-661-3327) 10am-12pm & 1-6pm, 7 days a week. Food and sundries; possible white gas, no backpacking canister fuel.
Lodging: Nunamiut Corporation Hotel (907-661-3220) Inquire locally for prices.
Restaurant: Not Open. Nunamiut Restaurant (907-661-3220)
Museum: Simon Paneak Memorial Museum (907-661-3413) Admission - $20; Exhibits on Nunamiut history, life, and culture; gift shop with Alaska Native crafts; A Passport to Your National Parks Cancellation Stamp is available here.
Post Office: (907-661-3615) Typically open from the first airplane flight in through the last flight out each day, Mon-Fri. Postage Stamps, US Mail. Will hold packages sent to General Delivery for up to 15 days, longer by request.
Health Clinic: Robert Ahgook Memorial Health Clinic (907-661-3914) 8:30am - 5pm, 7 days a week. Only available to non-tribal members for emergency care.
Note: Many businesses in the village operate 8:30am-5pm, Mon.-Fri, close for lunch, and are subject to intermittent closures for unknown durations. Prices and Services in Anaktuvuk Pass are typically much more expensive than other places due to its remote location, and are subject to change.


Last updated: July 7, 2023