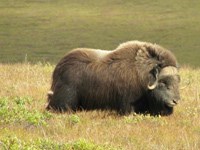 Pleistocene Survivor
If you could step back in time to northern Alaska during the Pleistocene Ice Age, you would see wooly mammoths with long ivory tusks, shambling across the tundra, raising their trunks and trumpeting into the frigid dawn. Perhaps you would see giant steppe bison or saiga antelope or an enormous short-faced bear weighing 1,900 pounds. And perhaps you would see muskoxen … looking pretty much the way they do today.
In Gates of the Arctic National Park, this survivor of the Pleistocene—an animal that actually wandered across the vast, grassy steppes of ice-age Alaska—can still be seen.
The ancestors of the muskox probably crossed the Bering Land Bridge from Asia to North America 100,000 to 150,000 years ago. During the massive continental glaciations that followed, these animals retreated to a few areas that remained free of ice in northern Canada and Greenland.