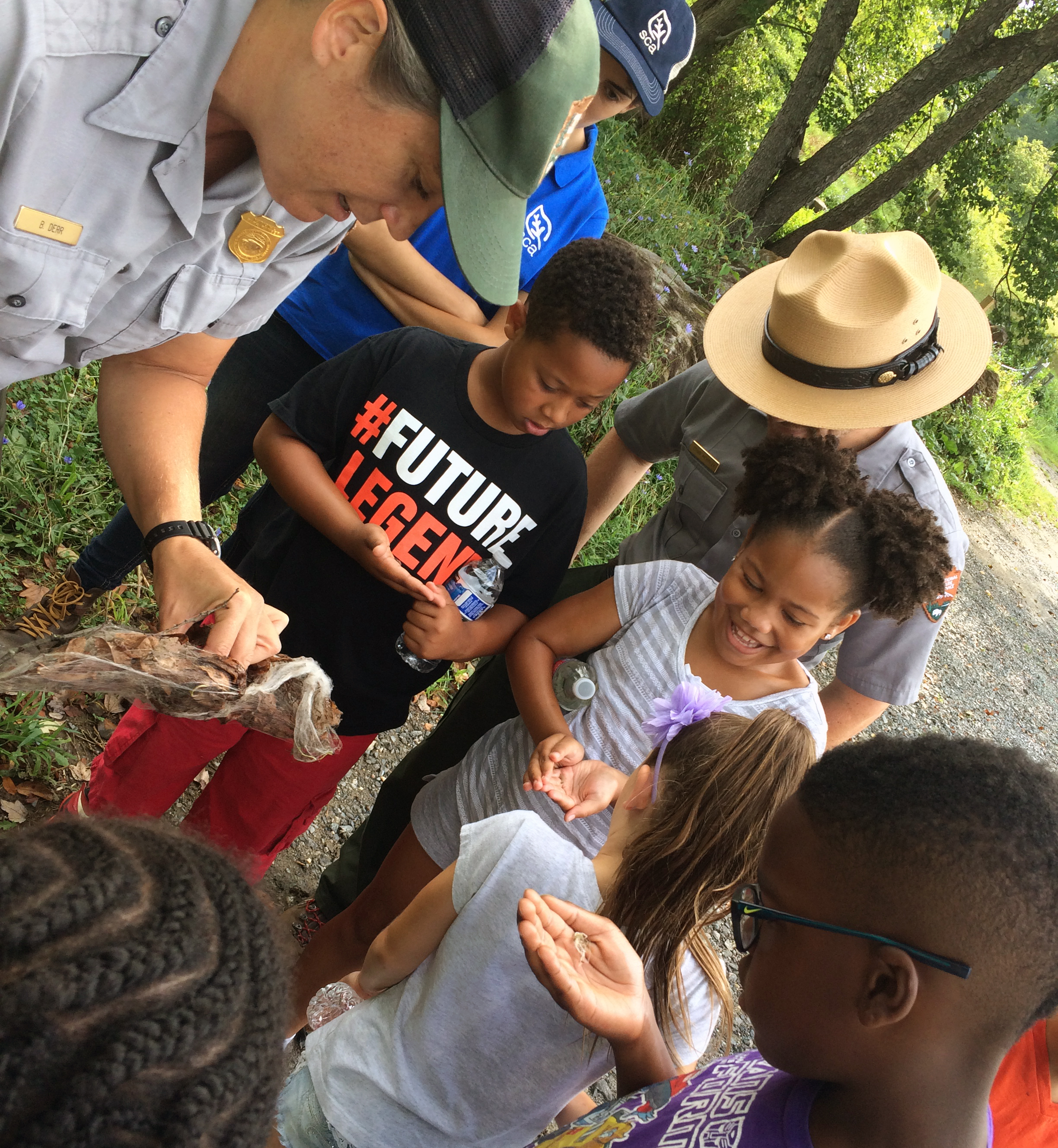 News Release Date:
May 2, 2016
Contact: Kekoa Rosehill, 610-783-1013
Wilmington, DE –Get ready to explore First State National Historical Park like never before! On May 20-21, First State will participate in the National Parks BioBlitz. A BioBlitz is a fun, fast-paced biological survey of a park's creepers and crawlers, plants and pollinators, mammals and more. The National Park Service is celebrating its 100th birthday with more than 100 BioBlitzes across the country.
The First State BioBlitz is a showcase event for the 2016 National Parks BioBlitz in partnership with The Nature Conservancy in Delaware. During this free, two-day event, teams of scientists, naturalists, students and volunteers will discover and document the many species of Beaver Valley at First State NHP.
The event will include a student day on Friday, May 20, and a public day on Saturday, May 21. Both days will feature a Biodiversity Festival where visitors can learn through hands-on activities about the plants and animals that call the park home. All activities on both days will take place at the Ramsey Farm located at 291 Ramsey Road, Wilmington, DE 19803.
Friday, May 20–The student BioBlitz will be from 9:00 am–2:00 pm;throughout the day, 189 students from 5 local schools will help staff and volunteers inventory the plants and animals of the park. There will be a Biodiversity Festival all day for the students to learn and discover more about the natural world of Beaver Valley. After the students depart, scientists and naturalists will inventory throughout the evening.
Saturday, May 21–The public BioBlitz will be from 9:00 am–2:00 pm;explorers of all ages are invited to be a part of the national effort. Come out and discover America's back yard, and help the park inventory and discover new species! Visitors can join in by registering on Eventbrite. The Biodiversity Festival will run from 9:15 am–1:30 pm and will include fun and educational activities.
American Express is the national sponsor of the 2016 National Parks BioBlitz.
To learn more about the National Parks BioBlitz–First State and activities throughout the northeast region and beyond go to www.nationalgeographic.com/bioblitz.
About the National Park Service. More than 20,000 National Park Service employees care for America's 411 national parks and work with communities across the nation to help preserve local history and create close-to-home recreational opportunities. Learn more at www.nps.gov.