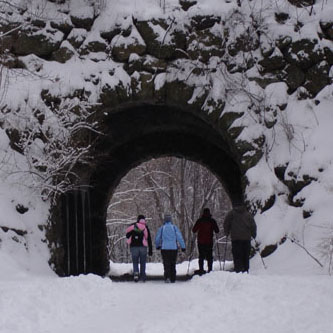 Winter 2017 Programing
Please call 617-566-1689 ext 238 with any questions.
Saturday January 28, 12 pm - 4 pm
Speciality and Standard Tours

Miss us already? Come back for a tour of the historic design office and grounds. Non-traditional tours offered at 12 and 2, with standard interpretive tours at 1 and 3. Exhibits and bookstore will be open from 12 pm until 4 pm.

12 pm: "Olmsteds and the Organic Act" is a discussion based experienced centered around the Olmsteds and their vision for a national park system. Is it still the "sole duty of government, to provide means of protection all citizens in the pursuit of happiness against the obstacles" in protecting these places? And if they are protected, is it possible to leave them "unimpaired for the enjoyment of future generations?"

2 pm: "Landscapes for the Seasons" focuses on the Fairsted landscape and the National Park Service's restoration and maintenance of our 1.76 acres. Enjoy a uniquely winter perspective on the grounds during this outdoor experience.

Saturday, February 11 11 am- 12 pm
Frederick Law OImsted: A Many Sided, Fluent, Thoroughly American Man
Frederick Law Olmsted's partner, Calvert Vaux, described Central Park as a "many sided, fluent, thoroughly American high art". The same could be said of Olmsted himself, who did not settle finally into his career as a landscape architect until he was in his mid-40s.
From sailor to superintendent; journeyman to journalist, all these seemingly disparate experiences would, like a mosaic, only reveal their role in creating this American artist through the distance of time. Join Ranger Alan Banks as he examines Olmsted's search for his purpose in life and whether, in the end, he felt he found it.
Reservations are
required
.

Saturday, March 11, 12 pm - 3 pm
Opening the Olmsted Vault: World's End and the Trustees of Reservations
In Fairsted winter tradition, we open our collection for viewing, this time partnering with
Trustees of Reservations, World's End
. We will highlight the work the Olmsted firm did in advocating and designing of Trustees properties such as World's End. Explore original plans, drawings, and photographs at your own pace and speak with Olmsted experts, an Olmsted archivist, and staff from World's End.

Saturday, March 25, 1:00 - 2:30 PM
(with Optional Exploration of the Franklin Park Zoo Afterwards till 3:15)
Franklin Park: A "Quiet Season" Jaunt
Join us for an exploration of Franklin Park in the early spring, before the crowds arrive and after the departure of our New England winter. This tour will visit the section of the park Olmsted called "Ante-Park". Stops will include the Valley Gates, the Playstead Overlook and Shelter ruins, the Long Crouch Woods, and the Bear Dens. After the tour, interested walkers will be able to take an optional 45-min tour of historic sections of the Franklin Park Zoo.
Register early, as we are limiting the group to 25 participants.
Reservations are required.

To get on our email list to receive our program
schedules directly please follow this link