Olmsted Archives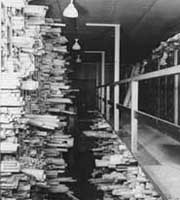 Frederick Law Olmsted
National Historic Site

Archives and Museum Collections
The Olmsted Archives is one of the most widely researched museum collections in the National Park System, containing over 1,000,000 historic documents.
Park and city planners from across the United States use these records each year to rehabilitate and rebuild many of the nation's most significant and beloved landscapes to the lasting benefit of millions of people. Historians, students, and preservation planners use the collection to document historic areas and to produce exhibits, films and scholarly publications.
The National Park Service has cataloged and conserved the collections which contain landscape photographs, initial surveys, field sketches, general plans, planting lists, presentation drawings, business records and scale models.
Researchers have the opportunity to survey and study historic records related to parks, gardens, communities, estates, and campuses designed by Frederick Law Olmsted and the Olmsted firm, including:
Acadia National Park, Maine
Atlanta Parks, Georgia
Baltimore Park System, Maryland
Boston Park System, Massachusetts
Buffalo Park System, New York
Central Park, New York, New York
Chicago Park System, Illinois
Denver Park Commission, Colorado
Louisville Park System, Kentucky
Prospect Park, Brooklyn, New York
Seattle Park System, Washington
Stanford University, California
US Capitol Grounds, Washington, DC
West Point Military Academy, New York
White House Grounds, Washington, DC
Yosemite National Park, California
Archival Collections at Olmsted NHS
The surviving records of the Olmsted firm are held primarily at the Frederick Law Olmsted National Historic Site and at the Library of Congress in Washington D.C. Originally together in Brookline, these collections complement each other and are often best studied in tandem.
The Archival collections held at the Olmsted National Historic Site date from 1839 to 1980. The collections include an estimated 139,000 landscape architectural plans and drawings, 70,000 sheets of planting lists, 60,000 photographic prints, 30,000 photographic negatives, 12,000 lithographs, financial records, job correspondence, records and reports, and models relating to over 5,000 design projects. The Archives also contain study and reference collections on urban design, landscape architecture, and the fine arts in general.
Descriptions and Linked Finding Aid Documents to the Collections

Olmsted Research Guide Online (ORGO)
With the Olmsted Research Guide Online (ORGO), it is possible to search a single database for records held at the Olmsted National Historic Site and the Olmsted collections at the LC: plans and drawings, photographs, lithographs, planting lists and correspondence.
ORGO features a "Master List" search that allows researchers to search for Olmsted projects through a variety of access points: client name, historic job number, project type, city and state. In addition, ORGO includes a database with basic document information such as date and author/draftsman responsibility, as well as information on specific microfilm locations to simplify interlibrary loan requests from the Library of Congress. The database can be accessed at www.rediscov.com/olmsted.

Reference Assistance and Research Appointments
The Olmsted Archives is open to the public, Monday through Friday, by appointment. Reference assistance, finding aids, and reprographic services are available. Contact the Olmsted Archives reference staff to determine which landscape design or other records relate to your research.
Some materials have been reproduced electronically and are available to researchers without necessitating a research appointment.
The Olmsted Archives may be contacted by telephone, mail, fax and e-mail at:
Olmsted Archives
Frederick Law Olmsted NHS
99 Warren Street
Brookline, MA 02445
PHONE: (617) 566-1689 FAX: (617) 232-3964
E-mail: Olmsted Archives
Please contact the Archives staff for research assistance and information, as well as to request permission to reproduce, publish or exhibit material from the Olmsted Archives. All requests will be answered in the order in which they are received. Please include the words Research Request in the subject line of e-mail correspondence.
Copyright Notice
The Copyright Law of the United States (Tiltle 17, USC) governs the making of photocopies and other reproductions of copyrighted material. Under certain conditions specified in the law, libraries and archives are authorized to furnish a photocopy or other reproduction. One of the specific conditions is that the photocopy or reproduction is not to be used for any purpose other than private study, scholarship, or research. If a user makes a request for, or later uses a photocopy or reproduction in excess of "fair use," that user may be liable for copyright infringement.
Accessibility
Wheelchair accessible parking is available. Please contact the reference staff regarding accommodations for research visits.
Last updated: April 25, 2023