Frederick Law Olmsted, Jr.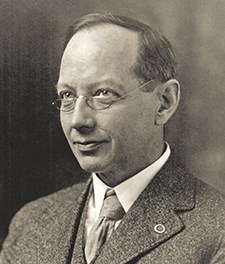 Birth and Death: 1870-1957
Years at Firm & Positions: Apprentice:1895-1897, Partner: 1897-1949, Consultant: 1949-1957
Notable Project Involvements while at the Firm:
Baltimore Park System, Baltimore, Maryland
Fort Tryon Park, New York, New York
Palos Verdes Estates, California
Boulder Park System, Boulder, Colorado
Forest Hills Gardens, Queens, New York
Acadia National Park, Mount Desert, Maine
Training in landscape architecture for Frederick Law Olmsted, Jr. began in his youth. With the Olmsted office in the family home, diverse projects were near at hand, and his father ensured that he had productive experiences that would serve him well as a landscape architect, the career his father intended for him. Even before his 1894 Harvard graduation, "Rick" traveled to the World's Columbian Exhibition in Chicago and to the Biltmore Estate in North Carolina and was engaged in design and construction. With the onset of his father's illness in 1895, Rick became more active in the firm assuming the role of partner in 1897.With John Charles, he helped to establish the American Society of Landscape Architects in 1899 and served as its president for two terms. He also helped develop the country's first degree program for landscape architecture at Harvard University. Following his father's design philosophy, he had an abiding concern that cities be comprehensively planned to provide for healthy living and working conditions and scenic recreational opportunities. His national reputation was established with his early work for the McMillan Commission in Washington, DC to return the nation's capital to its intended beauty. He continued this urban planning work with reports on numerous cities across the country, including Pittsburgh, Pennsylvania; New Haven, Connecticut; and Boulder, Colorado. He was a passionate advocate for the preservation of natural areas throughout the country and wrote the key language of the 1916 Organic Act that established the National Park Service. In 1928 he helped establish the first state park system in California. Toward the end of his life, Rick continued in the forefront of the conservation movement as an active member of the Sierra Club and the California Save-The-Redwoods-League. A grove in Redwoods National Park now bears his name. He would say it was his father who instilled in him the idea that it was his mission "to protect and perpetuate whatever of beauty and inspirational value [is] inherent in that landscape."
Last updated: April 8, 2022