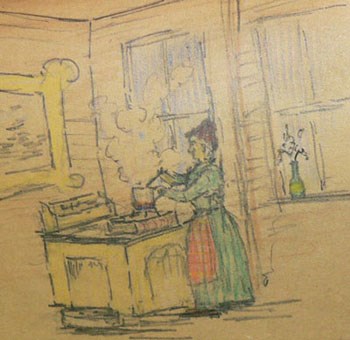 What was it like to work in the Olmsted office?
The clerical workers mainly worked in separate spaces from their male colleagues, which even extended to the lunchroom. The men had a lunchroom in the basement and the women had a lunchroom in the clerical wing. They paid a small fee per month that went into food and meal preparation. One of the staff would help prepare lunch for the others. The staff all worked a five and a half hour day until around 1930. But sometimes the clerical workers had to work overtime as well.
On nice days, the women took advantage of the outdoor landscape after lobbying for a place to sit in the Hollow. However, it had taken some time for the chair to appear. In 1924 employee Hans Koehler finally wrote to Olmsted Jr. that "yesterday [Helen Bullard] remarked to me incisively and justly during the heat of the day: 'Mr. Koehler, that settee won't do us any good next winter.' So, I guess that I had better get the matter settled or say no more about it." Cartoons and memos in the Olmsted collection suggest that the women often struggled to have their voices heard in the office.