Garden Sculptures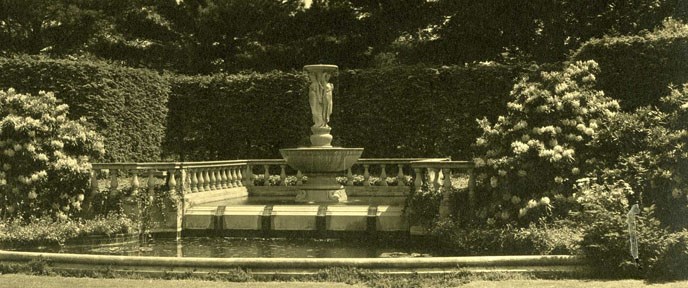 In the early twentieth century, Olmsted Brothers received many commissions to design gardens for private estates. While Frederick Law Olmsted had worked on some private estates at the end of his career, this type of project grew significantly after his retirement in 1895. During that time period, country estates were growing in popularity and became one of the most common commissions for the firm from the 1900s to 1930s.
Many wealthy individuals wanted their landscapes to be just as lavish as their homes. Olmsted Brothers designed different styles of gardens for estate owners, though they tried to work with the natural scenery of all spaces. For some estates, they incorporated their tradition of natural design to create open lawns and winding paths that were heavily planted. Many owners also wanted European-influenced formal gardens that corresponded to the architecture of their homes. These gardens were more decorative, with geometric lawns, flower beds, pools, and sculptures.
For some gardens, Olmsted employees worked with sculptor Johan Selmer-Larsen to create decorative sculptures and other accents. Selmer-Larsen was a Norwegian-born artist whom the Olmsteds employed to help with modeling and sculpting. He first took up work for Olmsted Brothers in 1912 and produced pieces for the firm for over forty years.
The following pages show some of the pieces Selmer-Larsen designed for three estates. Some of these sculptures were meant as statements, others as small details that we might otherwise overlook. From these images, we can better understand the design process and watch Selmer-Larsen's ideas turn into finished products. The photos also reveal the craftsmanship behind each sculpture.
Follow the links below to view the development of Selmer-Larsen's sculptures.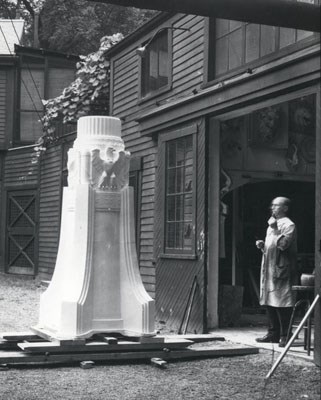 Who was Johan Selmer-Larsen?
Johan Selmer-Larsen was born in 1876 in Sarpsborg, Norway. At the age of 17 he left for the United States, where he found employment with an uncle and trained as an artist in his spare time. After ten years, he returned to Norway and worked as a sculptor and painter. However, he decided his future lay in the United States. Selmer-Larsen returned to America in 1906, settling in Boston. After a few years gaining commissions around the area, he was hired by the Olmsteds in 1912. In 1918 he sold his own studio and set up shop in the Olmsted's barn. He worked for Olmsted Brothers for over forty years, creating many pieces of architectural sculpture for gardens and institutions in his classical style. He also taught at the School of the Worcester Art Museum and was Instructor in Modelling at the Architectural School at MIT.
By 1918 Selmer-Larsen was living full time in Marblehead, MA, with his wife Margrethe and, eventually, four children. The coastal scenery of Marblehead inspired him in his artwork and reminded him of his home in Norway. With other local artists in the area he founded the Marblehead Arts Association, which continues to this day. He also gained local acclaim as a skilled designer and constructor of model yachts. Selmer-Larsen continued to stay active as an artist through the late 1950s. He passed away in 1967 at the age of 91.
Last updated: September 13, 2015