Date:
April 17, 2007
Contact:
Tom Markwardt, 724-329-2013
Contact:
Kitty Seifert
, 724/725-9190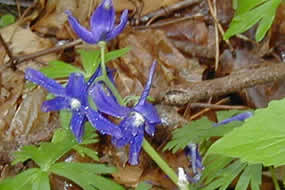 POINT MARION, Pa. The spring wildflowers are showing their finest colors this weekend along the banks of the Monongahela River. The National Park Service invites you to join Herbalist Betty Quintana this Saturday to hike the trails and view the multitudes of spring flowers at Friendship Hill.  Two walks are scheduled; on Saturday, April 28. The morning walk begins at 10:00 A.M. and the afternoon walk is offered at 1:00 P.M. "The flowers are beautiful to see and learning some of the folklore and legends which surround these harbingers of spring can increase your appreciation for them," said Acting Park Manager Dan Watson.
The hikes begin at the Visitor Center. Sturdy walking shoes and a bottle of water are recommended. Each hike will last about 2 hours and covers a two-mile distance. No reservations are required.
The National Park Service cares for special places saved by the American people so that all may experience our heritage. Friendship Hill National Historic Site preserves the home of Albert Gallatin, a noted statesman of the Jeffersonian Era.  The park is located on State Route 166, approximately three miles north of Point Marion, Pennsylvania. For more information about the hike or the park, please call 724-725-9190.