Date:
June 11, 2014
Contact:
Melody Liberatore
, 724-329-2501
Contact:
Kitty Seifert
, 724-329-5472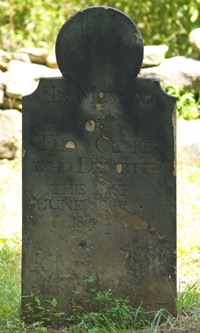 POINT MARION, Pa: A special National Park Service program commemorates the anniversary of one Fayette County's early leading citizens. The public is invited to join park ranger Melody Liberatore at Friendship Hill National Historic Site on Sunday, June 22, 2014 at 2:00 p.m. for a refreshing walk and historical insight.
Who was Thomas Clare? Clare was an early settler and prominent businessman in Fayette County, who died 200 years ago on June 23, 1814. Clare settled on the Monongahela River in Springhill Township where he conducted business and speculated on lands in the area. He leased five acres to Albert Gallatin, on which Gallatin placed his first store in the area. Gallatin eventually purchased a tract of land next to Clare's farm. The pair became good friends and, as business partners, did much to develop the Springhill Township area of Fayette County.
The walk will be approximately two miles in length, beginning at the trail head parking lot and going to the Thomas Clare Cemetery and back. Sturdy walking shoes and water are strongly encouraged. The program is free.