Date:
July 11, 2013
Contact:
Kitty Seifert
, 724-725-9190
Contact:
Tom  Markwardt
, 724-329-2013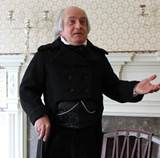 POINT MARION, PA –James Madison is known as the "Father of the Constitution." Albert Gallatin was opposed to the Constitution as it was written. He was fearful of a Constitution with a strong central government without written guarantees of individual rights, but used the principles written in the Constitution to help create and support the addition of the Bill of Rights that protects individual freedoms.  
These two important Founding Fathers served together on Thomas Jefferson's cabinet, Madison as Secretary of State and Gallatin as Secretary of the Treasury. Recognizing Gallatin as a financial mastermind, President Madison retained Gallatin as Secretary of the Treasury during his administration. 
Madison never visited Gallatin's home at Friendship Hill when they were alive. Now, almost 200 years after his death, Madison will finally come to Gallatin's stately home in southwestern Pennsylvania to converse about their work in the Democratic-Republican Cause. The National Park Service and their partner, the Friendship Hill Association, invite everyone interested to come out and meet these men at a free one day symposium, July 27, from 9:00 a.m. to 3:00 p.m.
President Madison is interpreted by John Douglass Hall. Mr. Hall has portrayed James Madison at Mr. Madison's home, Montpelier, in Orange County, Virginia, since 1987.  Mr. Hall is particularly noted for his ability to represent James Madison on constitutional issues for legal and academic venues, as well as at colleges and universities, high schools, and a variety of public forums around the country. He will address "The Constitutional Issues in a Republic in Times of Peace and War" at 10:15.
Ronald Duquette of Washington DC will portray Albert Gallatin. Duquette has been portraying Mr. Gallatin since 2011.  He has appeared at the Swiss Consulate-General in New York for the Swiss-American Historical Society, as well as the National Constitution Center in Philadelphia. During this symposium at Friendship Hill he will focus on "Funding a Republic at War." The forty-five minute "informance" begins at 11:30.
There will be opportunities for open discussion after each presentation, as well as an open conversation in the early afternoon on any topic of their day with the President and the Secretary. The program will conclude with a session on "the art of first-person interpretation." Information is available on the web at www.nps.gov/frhi. 
Please register for the symposium in advance by calling the National Park Service at 724-725-9190. Lunch is not provided. It is recommended that participants bring a bag lunch. There are a few restaurants within ten to fifteen minutes of the park.
Friendship Hill National Historic Site protects and preserves the house and history of Albert Gallatin. The park is dedicated to informing the visitor about Gallatin's life and achievements. Albert Gallatin was a congressman, business man, ambassador, Secretary of the Treasury and Father of the National Road. It is located on Rt. 166 between Point Marion, PA and New Geneva, PA