Date:
July 17, 2015
Contact:
Kitty Seifert
, 724-329-2501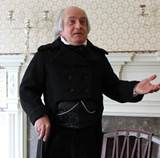 Point Marion, PA –The National Park Service will host the Third Annual Albert Gallatin Project Saturday, July 25, 2015. The one-day symposium, Welcome Home Mr. Gallatin, will focus on Albert Gallatin's return home from negotiations to end the War of 1812 and preparing for retirement from public service. Attendees will enjoy a day of historically based conversation and interpretation.
The two different sessions will feature Albert Gallatin visiting with friends and neighbors, and their families, on his front porch. The social occasion gives Mr. Gallatin the opportunity to reacquaint himself with his friends and neighbors as he settles back into private life.
Conversation for both sessions will include his activities in Europe, the reconstruction of the Federal City, and news that has filtered to Western Pennsylvania about events of the day. The sessions run from 10:30 a.m. to noon and from 1:30 p.m. to 3:00 p.m.
Secretary of the United States Treasury Albert Gallatin will be portrayed by retired Army officer Ronald Duquette.
The event is FREE. Reservations are not required. However, please RSVP to the National Park Service, Friendship Hill National Historic Site by calling 724-329-2501. This allows for advance planning for the number of visitors.
You are encouraged to bring a lunch with you on Saturday if you plan to spend the whole day. Food is also available in nearby Point Marion, Masontown, and Smithfield.
If you would like more information about this topic, please contact the National Park Service,
Friendship Hill National Historic Site at 724-329-2501. Friendship Hill is located three miles north of Point Marion, Pennsylvania on State Route 166 north. The location address for use with Google Maps and other online mapping services is 223 New Geneva Road, Point Marion, PA 15445.