Date:
July 17, 2014
Contact:
Kitty Seifert
, 724-329-5472
Contact:
Brian Reedy
, 724329-5470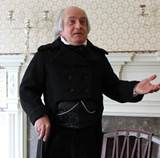 POINT MARION, PA – The National Park Service and Friendship Hill Association will host Secretary of the U.S. Treasury Albert Gallatin and President Thomas Jefferson at the Second Annual Albert Gallatin Project. The theme for the weekend at Friendship Hill National Historic Site is Expansion and a New Peace. Programs and activities throughout the weekend will feature Albert Gallatin and President Thomas Jefferson.  

Jefferson never visited Gallatin's home at Friendship Hill when he was alive. Now, almost 200 years after his death, Jefferson will finally come to Gallatin's stately home in southwestern Pennsylvania to discuss the results of the Louisiana Purchase and the impact of the War of 1812. The National Park Service and their partner, the Friendship Hill Association, invite everyone interested to come out and meet these men at a free two day symposium, on Saturday July 26. and Sunday, July 27from1:30 to 3:00 p.m. 
Saturday has two sessions themed The Louisiana Purchase: Was it Worth It? The sessions will be presented from10:30 a.m. to noon and from1:30 p.m. to 3:00 p.m. Sunday's session: Don't Know Anything about the War of 1812? will be presented from1:30 p.m. to 3:00 p.m.
Ronald Duquette, of Washington DC, will portray Albert Gallatin. Duquette has been portraying Mr.Gallatin since 2011.  He has appeared at the Swiss Consulate-General in New York for the Swiss-American Historical Society, as well as the National Constitution Center in Philadelphia. 

Thomas Pitz of Orange County, Virginia, has been performing as Mr. Jefferson since 1987.  His list of clients ranges from corporate executives and medical faculty to elementary school students. He considers it an honor and a privilege to bring one of America's greatest historical figures back to life. 
The Pittsburgh Blues Military Unit will encamp near the Gallatin House on Sunday, offering a glimpse into the life of soldiers of the War of 1812.
Hands on activities for children will be offered concurrently with the adult discussions. Activities on Saturday will include wildlife and plant identification, and surveying. Sunday will feature War of 1812 living history demonstrations with camp life hands on activities.
The event is free. Reservations are not required, but advance registrations are requested for planning purposes. Please call the National Park Service at 724-329-2501 to register. Lunch is not provided. It is recommended that participants planning to attend all of Saturday's sessions bring a bag lunch. There are a few restaurants within ten to fifteen minutes of the park.
Friendship Hill National Historic Site protects and preserves the house and history of Albert Gallatin. The park is dedicated to informing the visitor about Gallatin's life and achievements. Albert Gallatin was a US Congressman, business man, Ambassador, Secretary of the Treasury and Father of the National Road. It is located on Rt. 166 between Point Marion, PA and New Geneva, PA.
For more information about Friendship Hill NHS visit: www.nps.gov/frhi or call 724-329-2501.