Furniture Exhibit Unveiled at Friendship Hill NHS
Date:
April 23, 2007
Contact:
Kitty Seifert, 724-725-9109
Contact:
MaryEllen Snyder
, 724-329-5811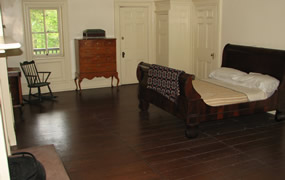 Albert Gallatin South Middle School Band to Perform
POINT MARION, Pa. For the first time ever, visitors to Friendship Hill National Historic Site will see the historic Albert Gallatin home with a houseful of historic furniture. On Sunday, May 6, the National Park Service will cut the ribbon on a new exhibit of furnishings from the Arlington House in Virginia.
  Friendship Hill National Historic Site is the temporary home of the museum collection of over 3,300 objects from Arlington House, The Robert E. Lee Memorial in Virginia.  Items, books, and furniture, including some once owned by the family of Robert E. Lee will be displayed at Friendship Hill while the National Park Service is rehabilitating the Arlington House Mansion, its outbuilding, and the historic grounds to protect and maintain the cultural resources and values for which the Robert E. Lee Memorial was established. The furnishings are expected to be at Friendship Hill for about three years.
  Friendship Hill was Albert Gallatin's home from 1789 until 1824. Gallatin, the Secretary of the Treasury, was living in Washington when Arlington House was built in 1802 by George Washington Parke Custis. Custis was George Washington's step-grandson and became Robert E. Lee's father-in-law. Arlington House was the scene of R. E. Lee's fateful resignation from the U.S. Army at the beginning of the Civil War. The house and grounds were seized by the federal government during the war and soon after, Arlington Cemetery was established.
  The day's activities begin at 2:00 p.m. with the Albert Gallatin South Middle School Band performing on the lawn of the Gallatin mansion. "This is a great opportunity for our area youth to showcase their talents, and this is a very talented group of young people," said Acting Site Manager Dan Watson. "They have held a spring concert here for the past seven years and always give an amazing performance." Watson reminds the public to bring folding chairs or blankets for their comfort. There will be no rain date in case of inclement weather.
 Friendship Hill National Historic Site is located three miles north of Point Marion, Pa. on state route 166. The visitor center is open 9:00 a.m. to 5:00 p.m. daily. For additional information or directions to the site, please contact the park at 724-725-9190 or visit the National Park Service web site at www.nps.gov/frhi/. Additional information on Arlington House, The Robert E. Lee Memorial is available on the internet at www.nps.gov/arho/ or by calling (703) 235-1530, Monday through Friday.
Last updated: February 26, 2015