First Allies Artillery Crew returns for FestiFall 2010
Date:
September 16, 2010
Contact:
Tom Markwardt
, 724-329-5811
Contact:
Kitty Seifert
, 724-725-9190
Contact:
Toni L'Hommedieu
, 724-569-4403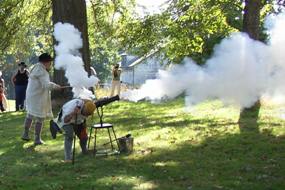 POINT MARION, Pa. The smells of soup cooked over an open fire, period music, and historic artisans will all help take you back to the time when Gallatin and his family made their home at the edge of the wilderness in Western Pennsylvania. The annual event at Friendship Hill National Historical Site is a celebration of the life and times of Albert Gallatin, the original owner of Friendship Hill.  
The Friendship Hill Association has sponsored FestiFall for twenty-eight years. The popular event has grown and now includes market fair. "The Market Fair gives people a chance to take small pieces of historic culture home with them," said Toni L'Hommedieu, President of the Friendship Hill Association. FestiFall will continue with a full weekend event this year, open from 11:00 a.m. to 5:00 p.m., Saturday, September 25 and Sunday, September 26. 
Plan to eat lunch under the trees on the lawn outside the Mansion. Historic food will be offered by the Friendship Hill Association. Ham and Bean soup, pulled beef sandwiches, lemonade, root beer, cider, corn bread and fresh baked bread will be available, as well as sugar and molasses cookies. 
On Saturday only, the six member Oneida Nation-First Allies living history group will demonstrate the loading and firing of eighteenth century artillery. The Oneida Nation living history department is committed to making the public aware of its long standing relationship with the United States government. Programs will be offered at 11:15 a.m., 12:30 p.m., 2:00 p.m., and 3:30 p.m. 
On Sunday, rangers will demonstrate on the art of surveying with special hands on activities that will fascinate children and adults. Other demonstrations of the eighteenth century home skills and crafts will take place throughout the weekend. Many of these products, including popular historic foods, will be available for visitors at the market fair. Quilters, soap makers, rug braiders, potters, and more will showcase their talents. Amusements, including period music and flower head garlands will also be a part of the celebration. 
The Gallatin House is furnished with pieces from the Arlington House in Washington DC. Take the time to wander through the rooms of period furniture. Be sure to view the video presenting Albert Gallatin's impact on our nation. Gallatin is best known for his years of service as Secretary of the Treasury under Presidents Jefferson and Madison. A statue of Albert Gallatin stands in front of the US Treasury Department building in Washington, DC attesting to his value as a Treasurer in the early years of the Republic. 
Admission to the event is free. Shuttle service from the parking area to the knoll is provided for those needing assistance. The Gallatin house is handicap accessible with restrooms. Animals must be on leashes. 
The Friendship Hill Association is a non-profit group whose mission is to support the National Park Service at Friendship Hill National Historic Site. They are sponsoring the event in cooperation with The National Park Service. If you are interested in being a part of FestiFall or joining the Friendship Hill Association, there are plenty of volunteer opportunities. Toni L'Hommedieu will welcome your call! She can give you information of the type of help needed. Please call 724-569-4403 or send her an email. 
Friendship Hill National Historic Site is located on Rt. 166 between Point Marion, PA and New Geneva, PA. For further information contact the National Park Service at 724-725-9190.
-NPS-
Last updated: February 26, 2015