Be A Junior Ranger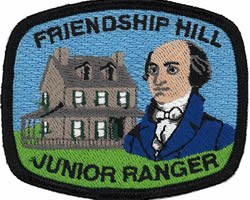 Become a Friendship Hill National Historic Site Junior Ranger. The program guides children on their explorations of Friendship Hill, helping them learn about Albert Gallatin's contribution to our nation in a fun and engaging way.
The Friendship Hill Junior Ranger program includes different levels of activities for children age 6-12. The levels are named to reflect the stages of Albert Gallatin's career.
"Industrialist" activities are recommended for children ages 6 through 8. Children 9 and 10 strive to become "Congressmen" while 11 and 12 year-olds complete the "Secretary of Treasury" tasks.
Children completing the program will be awarded a National Park Service Junior Ranger patch. They will also earn a Friendship Hill Junior Ranger patch and certificate.
The Friendship Hill Junior Ranger program is available to families and youth groups. Groups must call in advance to insure adequate supplies and supervision are available. The program is designed for children to explore history with the aid of an adult. Organized groups should insure there are enough chaperones to work through the activities with the children. Call Ranger Kitty Seifert at 724-329-5472 for more information. There is no charge to participate in the Jr. Ranger Program.
Stop at the visitor center desk at Friendship Hill and become a Junior Ranger today. If you would like to begin work on your Junior Ranger Adventure Book before you arrive, you can download a copy here.
Last updated: November 28, 2018