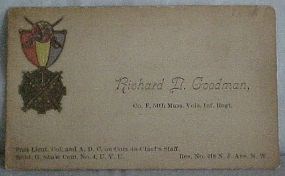 Make a Calling Card

Famous and important people visited Frederick Douglass at Cedar Hill all the time. As part of a visit they would present a "calling card" at the front door. Visiting was referred to as "paying a call" and a calling card was how you introduced yourself at someone's home.

Now imagine that you are coming to pay a call on Frederick Douglass. It's time to design your own calling card so you can be properly introduced.
The card should have your name, but the rest is up to you! What would you want people to know about you from your card? How would you present yourself?

Instructions:

What you'll need:

Paper
Scissors
Markers, crayons, or other art supplies

What to do:

1. Cut a piece of paper into the shape you want your calling card to be (most calling cards from the time were rectangles, but yours can be any shape).
2. Write your name on the card. Will you use your first and last name? An initial? A title? It's up to you!
3. Decorate your card. Think about the impression your card would make on someone who is just meeting you. What would you want them to know about you?
4. If you come to visit Cedar Hill, bring your calling card to present yourself!