Anna Murray Douglass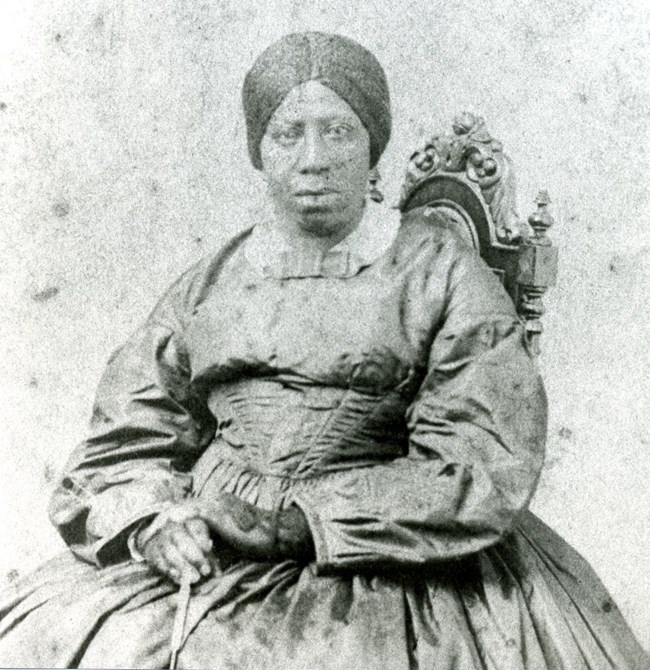 Anna Murray Douglass was the first wife of Frederick Douglass and the mother of all five of their children. Not much research beyond a surface level is available on Anna and how she played a critical role in Frederick's success. Anna was born on the Eastern Shore of Maryland, one of 12 children of two parents who were enslaved. Anna left home at 17 and found work as a domestic helper. Frederick and Anna met around 1838 while he was still enslaved and she a free woman. Anna sewed a sailor's uniform for Frederick and borrowed a freedman's protection certificate to help him escape to New York. Anna soon followed, and they got married and began their family. While Douglass was away giving speeches and doing other work in the abolitionist movement, Anna kept the home together. Douglass would send money home, and she would pay the bills; she also took up work binding shoes and doing laundry to ensure the family would have no debt. Douglass's colleagues judged Anna as being "too stupid" and not on Douglass's "level." Her being a darker-skinned Black woman also played a significant role in her mistreatment. Anna was also a very private woman and did not always enjoy being in the spotlight that came with being married to a public figure.
Anna's contribution to Frederick's success has been widely overlooked and not credited in historical retellings. Although a free woman, she did not read or write, so we do not have letters written by her to tell her story, which historians would typically use. So, we are left with Frederick and their children to tell her story. There is a speech written by their oldest child, Rosetta Douglass Sprague, which later became a book, "
My Mother As I Recall Her."
Her sons, Lewis and Charles Douglass also offered another viewpoint of Anna's impact on Frederick's success in their speeches. The Douglass children wanted the public to know how having a Black family supporting Frederick's work was extremely critical to his success.
History typically does not credit the work of Black Women and how without it, success would not be possible. There should be as much information on Anna Murray Douglass as there is on Frederick Douglass. As storytellers, interpreters, and stewards of history, we have a sacred duty of making sure people of marginalized communities receive the credit they deserve. And we encourage all visitors to follow the links provided and learn more about Mrs. Anna Murray Douglass.
More sources on Anna Murray Douglass:
https://www.aaihs.org/on-the-life-of-black-abolitionist-anna-murray-douglass/
https://www.usatoday.com/story/opinion/2020/07/10/frederick-douglass-wife-anna-murray-douglass-legacy-work-history/5389370002/
https://www.smithsonianmag.com/history/hidden-history-anna-murray-douglass-180968324/
Last updated: July 19, 2022