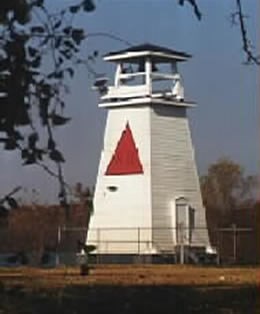 Since man has traveled on the water, it has been necessary to ensure safe passage into harbors. The first light to assist these early mariners would have been a large fire placed on the hillside to direct them to the harbor.
Pharos of Alexandria, Egypt can be considered to be one of first lighthouses in the world. This light was constructed over 2,300 years ago and stood over 400 feet high. The light would have been a large open fire with a giant mirror behind it to reflect the glow. The light was lit for over 1000 years and stood unlit for an additional 500 years. During the centuries, invaders and Mother Nature slowly destroyed the once great Pharos. An earthquake finally toppled this Wonder of the World; nothing of it remains today.
Lighthouses were first established in the United States along the coast where there were important commercial ports. Since there was no centralized government, many communities would establish there own lighthouse and maintain them. Localism played a large part in placement of the lighthouses; no one wanted to pay for a light in another colony or one that did not benefit the local merchants and people of the area. Until the area became prosperous it was not financially necessary to have a light.
As the country grew, more and more lights were placed, and it became difficult for the ship captains to positively locate the correct port. To correct this problem the lighthouse were painted in varying color schemes and the lights themselves were given different patterns of flashing known as "characteristics". Guidebooks to the lights were created so that the captains would be able to distinguish the different lights and find the way into the harbors. With the continuing growth of the country it was necessary to build lights along the major waterways into the interior of the country, these lights placed were secondary to the coastal lights.